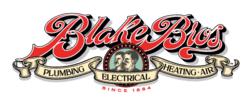 Providing you Reliable EV Charging Solutions in Huntsville, AL.
Electric vehicles are the future of transportation, and they are here to stay. But while it feels good to be driving an eco-friendly car, owning one comes with its own unique challenge: Their batteries require recharging every few hundred miles.
If you want the convenience of being able to charge your electric vehicle at home, Blake Brothers' team of expert electricians can set one up for you. We can help you determine the best location for your EV charger and make the necessary electrical upgrades for installation.
Our Process: EV Charger Installation
Book Instantly Online.
Click "Book Online" to schedule your service and receive instant confirmation.
A technician will visit your home.
We arrive at your property on time, inspect the issue, and let you know what to expect.
3
Blake Brothers will perform your EV charger installation.
We install your electric vehicle charger according to manufacturer specifications.
Customer satisfaction guaranteed!
We stand behind our work. Call us anytime for post-service inquiries or concerns.
Are You Looking for Experienced EV Charger Installers in Huntsville?
Looking for a more convenient way to charge your electric vehicle? Save time and money by installing an EV charger in your home! Plug in your car at night and have it fully charged in the morning, ready for the day ahead.
The Huntsville community can rely on Blake Brothers Plumbing, Electrical, Heating, & Air to install premium EV charging stations in their homes and businesses. We are experts at installing Level 2 EV charging equipment, which can greatly reduce the time it takes for your EV to fully recharge.
The certified EV charger installers at Blake Brothers are licensed electricians with a lot of training and experience, capable of installing any EV charger in a safe and professional way. We follow industry best practices, manufacturer guidelines, and local building regulations, so you can rest assured that everything is up to code. Our products and services come with a 100% satisfaction guarantee.
Benefits of Professional EV Charger Installation
Blake Brothers has been providing electrical services in the Huntsville area for decades. As experts in this field, we strongly suggest that anyone working on a project that involves electricity hire a professional.
Here are the most important reasons why you should let a pro install your EV charger:
Experience

Installation of an electric vehicle charger necessitates experience and skill to prevent accidental damage. A trained expert is familiar with the device's regulations, allowing for more efficient operation and upkeep.

Blake Brothers' comprehensive EV charger installation package provides end-to-end service. Anytime your charging equipment needs servicing, you can be sure we'll be there to help.

Safety

Keep in mind that an electric vehicle charger transfers a sizable amount of power from your home to your car; improper installation puts you and your loved ones at greater risk of being exposed to this electricity.

Moreover, the installation process can easily be compromised by careless handling, making the device more hazardous than useful. If you install your charger without professional assistance, you risk compromising its performance.

Compatibility

Another important reason to hire a professional is to ensure compatibility between your charging station and your vehicle's onboard charger and plug-in port. The appropriate hardware may depend on a number of variables, such as the make and model of your vehicle, its onboard charger, and the amperage it draws from the plug-in port.

Compliance

An electric vehicle (EV) charger is an expensive purchase, and the last thing you want is to get in trouble with the law because you didn't follow the rules. A professional installer ensures that your setup adheres to national regulations and wiring requirements.

Incentives

If you put an electric vehicle charger in your home, you may be able to get tax breaks or other benefits from the government. At Blake Brothers, we inform our clients if they qualify for any local incentives and how they can avail of or receive them. EV charger installation is a huge investment, and we want you to enjoy the fruits of your investment as soon as possible.

Whether you're interested in installing an electric vehicle charger at home or on a commercial property, Blake Brothers can provide you with high-quality chargers from the industry's top manufacturers.
How EV Chargers Work
To put it simply, an electric vehicle charger, also known as electric vehicle supply equipment (EVSE), is a piece of equipment used to recharge the batteries of EVs and HEVs. When connected to a vehicle's charging port, they use induction coils to create magnetic fields that propel electrons along the cable and into the battery. Essentially, an EV charger transforms the electricity from a wall outlet into a form that can be used by a vehicle.
There are three types of EV chargers.
Level 1 Chargers (110v-120v)
While these are the slowest and least expensive chargers on the market, you can install and use them at home with a standard extension cord, making them very convenient. A level 1 charger is too slow for daily use unless the car is rarely driven more than a few miles at a time.
Level 2 Chargers (220v-230v)
These are the most common types of chargers for electric vehicles. Level 2 EV chargers can be hardwired to a residential or commercial space, but they can also be plugged into a standard outlet. They are usually put in garages or public parking lots and can charge an electric car up to ten times faster than Level 1 charging. Even if you plug in with a nearly empty battery, a level 2 charger should fully charge your vehicle by morning.
Level 3 Chargers (DC FAST CHARGERS)
These are the quickest and most modern charging stations for electric vehicles available. DC fast chargers can charge an electric vehicle at up to 50 miles per hour, but their voltage requirement is much higher than Level 1 and Level 2 charging, which is why level 3 chargers are not typically installed in homes.
Level 3 charging stations are typically installed in public parking lots and commercial structures. These chargers have made long journeys possible for EVs.
Can You Install an EV Charger on Your Own?
The Level 1 charger that comes with your vehicle operates on 120 volts, so it's basically plug-and-go. Level 2 chargers, on the other hand, need 240 volts of power, so you may need to upgrade your breaker box for the new interface.
Due to the complexity and potential danger of installing a Level 2 EV charger yourself, it is always recommended that you hire a professional electrician. Making a mistake during electrical installation can result in costly repairs to your home and its electrical infrastructure. Performing electrical work can be dangerous to your health, so it's best to leave it to a trained expert.
The process of installing an electric vehicle (EV) charger may not be as simple as you initially believed. However, its long-term benefits make it a worthwhile investment. Getting help from the experts at Blake Brothers ensures that your installation is safe and working as expected.
Low Monthly Payments Financing for HVAC, Electrical, and Plumbing Services
Convenient financing options available!
Experience the many benefits of having your very own EV charger. Blake Brothers offers flexible financing options for EV charger installation in Huntsville and the surrounding areas.
Why Choose
Blake Brothers?
Instant schedule confirmation.
Book online now to receive your appointment confirmation.
Affordable service, transparent pricing.
Honest, upfront pricing for all our services. No surprises, hidden fees, or extra charges
Available 24/7 for emergencies.
HVAC or plumbing emergency? Call us!
We're at your service any time of the day or night.
Excellent Financing
Monthly payment plans to fit any budget – finance any major repair or replacement.
Blake Brothers has Technicians Ready to Assist with EV Charger Installation in
Plumbing License # CO51200005
We provide HVAC, electrical, and plumbing services throughout Alabama. Click the link below to find out if our services are available in your area.
"Jared did an excellent job diagnosing our HVAC issue. He was able to perform the service in a timely manner and was able to answer every question I had regarding our system!" ---Justin Colar