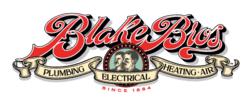 Huntsville's most trusted repipe specialist, at your service!
Your plumbing system is made up of highly durable pipes, capable of withstanding high pressure and constant changes in temperature. However, they are not invincible to damage or degradation due to wear and tear. And while some issues can be fixed with professional pipe repair, more serious problems may require repiping.
Blake Brothers Plumbing, Electrical, Heating & Air provides superior pipe repair and repiping services in Huntsville, AL and surrounding areas. If your pipes are giving you headaches or functioning less efficiently than they used to, give us a call! We'll restore your peace of mind and the comfort in your home.
Our Process:

Plumbing Repair
Book Instantly Online.
Click "Book Online" to schedule your service and receive instant confirmation.
A technician will visit your home
We arrive at your property on time, inspect the issue, and let you know what to expect.
3
Blake Brothers will perform your repiping
Our repipe specialist will evaluate the issue at hand and recommend the most suitable course of action.
Customer satisfaction guaranteed
We stand behind our work. Call us anytime for post-service inquiries or concerns.
Pipe Repair Experts in Huntsville, AL
A damaged pipe can cause a variety of complex issues that will not only put your plumbing at risk, but expose your property to possible water damage as well. As such, you need a plumbing company that can properly assess your repair needs and come up with efficient, long-lasting solutions.
Blake Brothers is Huntsville's go-to local pipe repair and repipe specialist. Over the years, we have earned the trust of homes and businesses in the area by offering quality and cost-effective plumbing services.
Are you dealing with a damaged pipe? Call us! We can quickly and accurately identify the source of the problem, and recommend the ideal approach. Our licensed and certified plumbing experts are highly-skilled and trained in the latest plumbing methods and technologies, providing you with the advantage of working with an experienced team that prioritizes your comfort and satisfaction above all else.
No matter what type of pipes you have in your property – PVC, PEX, copper, or cast-iron pipes, we've seen and handled them all!
4 Signs You May Need Pipe Repair
The pipes are the primary and most important components of your plumbing system, which means even the smallest issue can disrupt functionality and performance.
Pipes are usually concealed behind walls or buried underground, so it's harder to notice if there's anything wrong with them. However, there are some signs of pipe damage that you can watch out for.
Pipe repair may be necessary if you notice the following signs:
Unusual Wet Spots
Damp floors and water stains in your walls are telling signs of a pipe leak. If you discover inexplicable wet spots in your home, call your plumber immediately. The sooner you handle the leak, the less damage you'll have to deal with.
Low Water Pressure
Low water pressure is a common sign of pipe damage. Is the water pressure in your sink or shower lower than usual? This could indicate a major leak somewhere in your property or imminent pipe failure.
Murky Water
Murky or hazy water could be a sign of corrosion in the pipes, especially if the water takes on a rusty appearance. Rust in your water can put your health at risk. It's a serious problem that requires your immediate attention.
Unexplained Increase in Water Bill
If your water bill is higher than usual and you don't know why, you may have a hidden leak in your home. Leaky pipes are a waste of money and water. Schedule a professional leak detection and pipe repair, if necessary.
Plumbing issues can easily fester and cause bigger, more expensive problems if not addressed soon enough. The moment you notice any of these signs of pipe damage, contact Blake Brothers. Our certified and licensed Huntsville repipe specialists are always available. Day or night; rain or shine, we got you 24/7!
Should You Repipe Your Home?
Repairs don't always work or, in some cases, may not deliver the expected results. If your pipes are damaged to an extent where repiping is necessary, frequent pipe repairs are just a waste of money. But the question is: how do you know whether to repair or repipe your plumbing system?
Outdated Pipes. Pipes that are more than 50 years old must be inspected for corrosion and replaced as recommended. Lead pipes, on the other hand, endanger health and must be replaced without delay.
Frequent Leaks. Recurring pipe leaks indicate that your plumbing has already served its purpose and it's time to repipe your property.
Visible Signs of Corrosion. Old and rusty pipes can leak and burst anytime. Replace them soon to avoid messier and more expensive problems.
Water Discoloration. The presence of rust and sediment build up in your water could mean that your pipes are gradually deteriorating from the inside. In most cases, repiping is your only option.
Bad Smell and Taste. Discolored water usually tastes and smells bad. If you no longer feel comfortable drinking your tap water, call a certified plumber to assess the situation.
The idea of repiping your home can be daunting. With so much time and money on the line, you'll want to make sure that repiping is your best option.
Blake Brothers' repipe specialist will evaluate the issue at hand and recommend the most suitable course of action. If a replacement is deemed necessary, our team can complete the service with as little impact on your home and convenience as possible. We bring expertise and professionalism to every job we tackle, leaving behind no mess so you may return to your normal routine as soon as possible.
Whether you need a single pipe replaced or a whole-house repiping, you can count on Blake Brother to meet your expectations – even surpass them – every time! When you choose to work with us, you can rest easy knowing that your plumbing system is in expert hands.
Low Monthly Payments Financing for HVAC, Electrical, and Plumbing Services
Convenient financing options available!
The cost of repiping a house can run high, depending on the scale of the job and the size of your home. The good news is that you don't have to pay for all of it at once! Blake Brothers offers flexible financing options for our pipe repair and repiping services in Huntsville, AL and surrounding areas. Contact us to learn more!
Why Choose Blake Brothers?
Instant schedule confirmation
Book online now to receive your appointment confirmation.
Affordable service, transparent pricing
Honest, upfront pricing for all our services. No surprises, hidden fees, or extra charges.
Available 24/7 for emergencies
HVAC or plumbing emergency? Call us!
We're at your service any time of the day or night.
Excellent Financing
Monthly payment plans to fit any budget – finance any major repair or replacement.
Blake Brothers has Technicians Ready to Assist with Home Repiping in
Plumbing License # CO51200005
We provide HVAC, electrical, and plumbing services throughout Alabama. Click the link below to find out if our services are available in your area.
"Jared did an excellent job diagnosing our HVAC issue. He was able to perform the service in a timely manner and was able to answer every question I had regarding our system!" ---Justin Colar