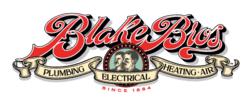 Expert air duct services at very competitive prices!
The ductwork is an integral part of your heating and cooling system. It transports massive amounts of heated or cooled air daily between the air handler and every room in your house. However, if these air ducts get clogged with dirt, they become much less effective at redistributing air. Your HVAC system will start losing efficiency as a result.
If you feel like your Huntsville area home is having air circulation problems or allergen levels are high despite using air filtration devices, your air ducts may be too dirty or leaking. In any of these situations, your best bet is to contact the best professional air duct cleaning and sealing services in Huntsville—Blake Brothers!
Our Process:

Air Duct Cleaning
Book Instantly Online.
Click "Book Online" to schedule your service and receive instant confirmation.
A technician will visit your home.
We arrive at your property on time, inspect the issue, and let you know what to expect.
3
Blake Brothers will perform your air duct cleaning service.
We clean your ductwork thoroughly and make sure it's leak-free.
Customer satisfaction guaranteed.
We stand behind our work. Call us anytime for post-service inquiries or concerns.
Air Duct Cleaning and Sealing Experts in Huntsville
Your ductwork will continue to function whether it is clean or dirty, leaking or not, which is why it's crucial that you schedule duct cleaning regardless of how well it might be working. Preventive maintenance will help make sure that your duct system keeps working well and that any small problems are found and fixed before they get worse and cost a lot to fix.
The thing is, you can't simply DIY or ask anyone to clean and/or seal your home's air ducts. You'll need professionals who have the expertise and testing equipment required to find air leaks and seal them up for good.
If you suspect that the airtightness of your ventilation system has been compromised, contact Blake Brothers Plumbing, Electrical, Heating, & Air for duct testing. If the test results show that your ducts need to be cleaned and/or sealed to restore proper function, you can be sure that the job will be done to your full satisfaction.
Contact us today to learn more about our air duct cleaning and sealing services and how they can help improve the performance and prolong the life of your HVAC system.
Importance of Air Duct Cleaning and Maintenance
Even if your ductwork is well insulated and sealed, a significant amount of heated and cooled air is still lost between the air handler and the vent. This air leakage is normal and has already been factored into the efficiency ratings of your HVAC system.
However, having dirty or clogged ductwork can make matters a lot worse. It's natural for an air duct to accumulate dust, dirt, and other contaminants as it operates, but if you leave them to build up for a long period of time, they will eventually slow airflow enough to cost you money. Moreover, these contaminants can make their way into your home and pose a health risk, no matter how effective your air filtration system is.
In addition to basic duct cleaning, which should be done at least once a year, we strongly suggest that you have Blake Brothers test and seal your ducts on a regular basis, especially if your duct system is more than 10 years old.
How to Tell If Your Air Ducts Need Sealing
The United States Department of Energy estimates that air leaks account for the loss of 30% of the air in your home's duct system. That's a lot of money wasted on air conditioning or heating that never reaches the rooms that need it. And it's likely that you have no idea that this waste is happening under your own roof.
Professional air duct sealing will prevent conditioned air from escaping through the ducts in your home. The question is: how can you tell if your ductwork is leaking air through cracks and holes when most of it is concealed behind walls and ceilings?
Luckily, there are ways to tell if your ductwork is becoming inefficient. Here are some signs to watch for:
1. Higher Utility Bills
Your energy bills are likely to go up if there are cracks in your ductwork, letting air out all the time. If you've noticed that your utility bills are going up for no apparent reason, it might be due to leaky air ducts.
2. Musty Smells from the Vents
Air leaks frequently open to parts of the house that have musty or stale air, such as the spaces between your walls. If the air from these areas gets sucked in and enters through cracks in your ductwork, you'll notice foul odors coming from your vents.
3. Odd Noises From the Ducts
Any rattling or pinging noise coming from the vents is almost certainly caused by damage to the ductwork.
While you may want to seal leaks in your air ducts as soon as you notice them, this job requires so much more than a roll of duct tape and a bit of ambition. Despite its name, duct tape isn't for sealing ducts. You'll need to hire experts with the right tools to restore the airtightness of your ductwork.
If you are local to the Huntsville area, you only need to pick up the phone and call the ductwork specialists at Blake Brothers Plumbing, Electrical, Heating, & Air. We offer duct sealing services in Huntsville, AL and the surrounding areas. Contact us today for an appointment.
Benefits of Professional Air Duct Sealing
In the hands of professionals, you can rest assured that all the leaks in your ductwork are detected and then sealed using mastic or metallic tapes. This will return your ductwork to its original airtight condition and ensure that your HVAC system operates at peak efficiency.
Well-sealed ducts prevent the air pressure from dropping, which, in turn, keeps your AC and heater from having to work harder than they need to. And because dust, moisture, and pollutants from outside can no longer enter your home through the vents, you'll have better indoor air quality and an overall healthier and more comfortable home environment.
Low Monthly Payments Financing for HVAC, Electrical, and Plumbing Services
Convenient financing options available!
Our HVAC services are now more affordable with our flexible monthly payment plans! Get in touch with us to find out more about this offer!
Why Choose Blake Brothers?
Instant schedule confirmation
Book online now to receive your appointment confirmation.
Affordable service, transparent pricing.
Honest, upfront pricing for all our services. No surprises, hidden fees, or extra charges
Available 24/7 for emergencies
HVAC or plumbing emergency? Call us!
We're at your service any time of the day or night.
Excellent Financing
Monthly payment plans to fit any budget – finance any major repair or replacement.
Blake Brothers has Technicians Ready to Assist with Duct Cleaning & Sealing in
Plumbing License # CO51200005
We provide HVAC, electrical, and plumbing services throughout Alabama. Click the link below to find out if our services are available in your area.
"Jared did an excellent job diagnosing our HVAC issue. He was able to perform the service in a timely manner and was able to answer every question I had regarding our system!" ---Justin Colar