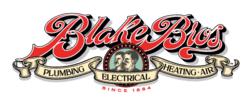 Top-Rated Water Quality and Treatment Experts in Huntsville, AL
Hard water can cause various issues, from minor problems, like water spots, to more serious ones that can cause extensive pipe damage.
One way to treat water is through "water softening," designed to eliminate minerals found in hard water. The result is what we refer to as "soft" water — water that is free of contaminants. For cleaner, healthier, softer water in the Huntsville area, contact the master plumbers at Blake Brothers Plumbing, Electrical, Heating & Air!
Our Process: Water Softener Repair
Book Instantly Online.
Click "Book Online" to schedule your service and receive instant confirmation.
A technician will visit your home.
We arrive at your property on time, inspect the issue, and let you know what to expect.
3
Blake Brothers will perform your water softener repair.
We implement effective, long-lasting solutions and get the job done right
Customer satisfaction guaranteed.
We stand behind our work. Call us anytime for post-service inquiries or concerns.
Water Softener Repair and Replacement Specialists in Huntsville, AL
Have you had enough of dealing with the problems that come with hard water? Blake Brothers is here to provide you with the solution! Homeowners and business owners in Northern Alabama have relied on us for plumbing and water treatment services for decades. Our team of certified and licensed plumbing specialists is equipped with the training and tools to fix your water softener or replace it with a new one fast!
At Blake Brothers Brothers, we are committed to providing our customers with the finest water softening service in Huntsville. When you call on us for repairs, we expertly assess your unit and find the most effective, long-lasting solution available.
If your current equipment is beyond repair, we can provide you with a premium water softener replacement that meets your needs and budget. We use cutting-edge water softening technology, including a multi-process softening unit that provides superior results while also extending the life of your system.
Signs Your Water Softener Isn't Working Properly
Water softeners are not created equal; even those that claim to be the best can malfunction and fail to remove minerals like iron and chloride from your water, even when operating at full capacity.
Do you have a nagging feeling that your water softener isn't doing its job as well as it used to? Here are the signs of a failing water softener:
Cloudy Water. If your water softener does its job, the tap's water should be clear and refreshing. When the water is cloudy or murky, the unit is likely malfunctioning.
Salty Water. You shouldn't be able to taste the sodium that your water softener used to treat your water. When the system fails to use salt properly, it can leave some salt in the water, making it salty. You may need to call a plumber to adjust the settings or, in some cases, a new water softener.
Lack of Lather. Soap doesn't mix well with magnesium or calcium and won't properly foam if you have hard water. If you have trouble getting a good lather going when washing dishes or soaping in the shower, there's likely a problem with your water quality.
Dry or Itchy Skin. Showering or washing your hands with hard water can leave you feeling dry or itchy. If this happens to you, examine your brine tank to see if it is stocked with salt pellets. If there are, it's likely that your water softener malfunctioned and needs professional service.
Laundry Issues. Clothes washed in hard water can feel rough and stiff when worn. Although fabric softeners can help with stiffness, a properly functioning water softener is your best bet for getting rid of the minerals that cause them in the first place.
Foreign Particles. If your home's water filtration system is ineffective, numerous contaminants can find their way into the water supply.
You may find soil and sediment, minerals, and even pieces of plastic floating in your water. If you find something in your water that shouldn't be there, schedule a water softener inspection with your trusted local plumber as soon as possible.

Change in Water Pressure.

Low water pressure is often caused by accumulated calcium and minerals in your faucet or shower head. If you neglect to service your water softener regularly, the water pressure in your home will eventually fluctuate. Such a change causes your appliances to work harder, resulting in higher energy costs.

The expert plumbers at Blake Brothers can handle all types of water softener issues. However, if your unit is too old, experiencing electrical problems, or breaking down too often, a water softener replacement may be the wiser and more practical option.
How Water Softeners Work
Detecting issues in your softener sooner can save you from having to replace the unit way before the end of its average lifespan. To do this, you must first understand how it works.
There are two stages in the water softening process: the softening and the regeneration stages.
Softening Stage
The hard water entering your home contains a high concentration of calcium and magnesium, affecting its odor and overall quality. The softening stage removes calcium and magnesium from the water and replaces them with sodium.
The process begins when hard water goes into the softener.
Resin beads in the tank attract the hard water minerals, removing them from the water.
Softened water exits the tank and flows into your home.
Regeneration Stage
During the softening cycle, the sodium on the resin beads is exchanged for hard water minerals in the water. For the resin beads to continue attracting and collecting hard water minerals, they must be rinsed clean and "recharged" after a specific period. This is the water softener regeneration cycle, and it's why people add salt to water softeners.
A full regeneration cycle takes about two hours. It is not recommended to use water during this process. Hard water will fill up the tank and build up inside the equipment.
Benefits of Water Softener Replacement
Investing in water quality has numerous advantages. With a fully-functional water softener on your plumbing system, you can expect the following benefits:
1. Better-tasting water.
2. Healthier skin and hair.
3. Longer lifespan for your plumbing system.
4. Lower maintenance needs and costs.
5. Longer-lasting appliances.
6. More energy savings.
Are you ready to experience the benefits that water softeners can offer to your health and home? You can reach out to us anytime, and one of our specialists will be there to help. For high-quality water softener repair and installation services in Huntsville, trust only Blake Brothers Plumbing, Electrical, Heating & Air! Schedule an appointment with us today!
Low Monthly Payments Financing for HVAC, Electrical, and Plumbing Services
Convenient financing options available!
Everybody deserves access to clean, healthy water. That is why, at Blake Brothers, we offer flexible financing options to our water softener repair and replacement services in Huntsville and surrounding areas. Contact us to know more about this offer or apply online.
Why Choose
Blake Brothers?
Instant schedule confirmation
Book online now to receive your appointment confirmation.
Affordable service, transparent pricing.
Honest, upfront pricing for all our services. No surprises, hidden fees, or extra charges.
Available 24/7 for emergencies.
HVAC or plumbing emergency? Call us!
We're at your service any time of the day or night.
Excellent Financing
Monthly payment plans to fit any budget – finance any major repair or replacement.
Blake Brothers has Technicians Ready to Assist with Water Softener Repair in
Plumbing License # CO51200005
Financing Options Available
At Blake Brothers Brothers, we understand how important a functioning HVAC system is for your home. This is why we offer flexible financing options to help you take care of your new HVAC purchase, so you can get back to taking care of what matters most to you.
A well-maintained HVAC system can save you from having to invest in costly repairs down the road. Learn more about the priority maintenance services offered by Blake Brothers Plumbing, Electrical, Heating & Air.