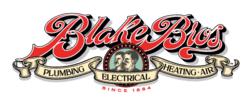 Seasoned Commercial EV Charging Station Installers in Huntsville, AL
Planning to install an EV charging station in your company or place of business? There is no better time than now. Smart EV chargers are becoming a must-have amenity for workplaces, businesses, apartments, and condos in the Huntsville area as more drivers go electric.
Installing EV chargers for the benefit of your employees, customers, and guests will put you ahead of the competition in terms of benefits and value creation opportunities. However, commercial EV charging station installation at your business's location is a complex undertaking; you may want to bring in a strategic partner like Blake Brothers to help you out.
Whether you need a new commercial EV charging station installation or an upgrade to your current setup, Blake Brothers Plumbing, Electrical, Heating, & Air has you covered.
Our Process:

EV Charging Station Installation
Book Instantly Online.
Click "Book Online" to schedule your service and receive instant confirmation.
A technician will visit your home.
We arrive at your property on time, inspect the issue, and let you know what to expect.
3
Blake Brothers will perform your commercial EV charging station installation.
We install your commercial EV charger installation and complete the job as scheduled.
Customer satisfaction guaranteed
We stand behind our work. Call us anytime for post-service inquiries or concerns.
Huntsville's Choice for Commercial EV Charging Station Installation Service
As demand for electric vehicles continues to grow, more and more Huntsville businesses are beginning to see the benefits of installing commercial electric vehicle charging stations in their companies and workplaces. Some companies are converting entire fleets to electric vehicles, while others are using smart user-pays charging stations to increase employee retention and attract customers.
EV charging solutions are available for all types of businesses, but setting up EV charging stations on-site can be tricky. It also takes expert knowledge and experience to figure out the best type for your organization.
Whether you need new commercial EV charging stations installed or to move and reinstall existing chargers to a more optimal location, the certified EV charger installers at Blake Brothers can make sure the work is up to code.
Our highly skilled and seasoned electricians can handle EV charger installation jobs of any scale. As seasoned professionals, we can ensure that the wiring goes in without a hitch and that your electrical system can handle the additional load. You can always count on Blake Brothers for a quick turnaround without compromising quality, safety, or customer service. We also offer some of the most competitively priced services in the market because we value your trust and satisfaction.
Your EV Charging Station Options
Like electric vehicles, EV chargers also come in several styles and capacities. Choosing the right commercial EV charging station for your business will require analyzing the needs of your employees and customers, as well as the electrical capacity of your building.
Electric vehicle chargers are broken up into three main categories:
1. Level 1 Charger – 120v
This basic unit is typically provided free of charge when you purchase the vehicle. It plugs into a 120-volt outlet without requiring any special electrical upgrades. However, a Level 1 charger takes about 9 hours to charge a car for a 40-mile drive, so take this into consideration when you're making a decision.
2. Level 2 Charger – 240v
Level 2 chargers are preferred by most small and medium-sized businesses because of their flexibility and improved charging speed of four to six hours. But since most of these systems run on 240 volts, you may need to upgrade your electrical panel and call in a qualified professional to take charge of the installation.
3. Level 3 Charger – Specialized or Extra Powerful Charging Stations
If fast chargers don't cut it for you, Blake Brothers also offers and installs DC super-fast chargers that will fully charge a vehicle in an hour or less! They're ideal for businesses that need to keep their electric vehicles running all day long.
A few vehicles, like Teslas, also have charging options specific to that vehicle. These may charge the vehicle faster or interface better with it. If you need one of these solutions, our technicians will help you choose the one that's best for you.
Benefits of EV Charging Station Installation for Huntsville Businesses
Still debating whether or not EV charging stations are a good idea for your business? The following benefits of commercial EV charger installation should convince you to go for it!
1. Drive Traffic to Your Business
Adding EV chargers to a business's infrastructure could help it make more money and increase sales. You can also make money off of your chargers by charging drivers by the charge or by the hour.
On the other hand, property managers who install commercial electric vehicle chargers will see an increase in foot traffic, which will make their tenants happy and encourage them to renew their leases.
2. Increase in Customer Spending
As the number of electric vehicles on the road grows, so does the demand for easy access to charging stations. Adding electric vehicle chargers to your business can attract and retain local customers who own electric vehicles and entice EV drivers from out of town to make a pit stop at your store or shopping center. These customers are also likely to stay longer and spend more money while waiting for their vehicle to finish charging.
3. Access to Tax Breaks and Incentives
Installing an EV charging station on your commercial property may entitle your business to tax breaks and rebates offered by government agencies and private companies promoting the use of clean energy options.
Commercial EV chargers add a unique and sustainable amenity to your business while also offering long-term cost savings.
4. Boost Brand Image
Being one of the first to embrace this new trend and business opportunity showcases leadership and commitment to sustainability. All these will serve to benefit the credibility and reputation of your company/business, especially among EV owners and eco-conscious consumers.
When you call Blake Brothers Brothers, you can trust that you're getting an experienced charging station technician every time. Our techs will listen to your needs and help find the charging solution that will work best for your business. We'll get it installed fast, too, so you can start reaping the benefits of your new EV charging station as soon as possible!
Low Monthly Payments Financing for HVAC, Electrical, and Plumbing Services
Convenient financing options are available!
With Blake Brothers' flexible financing plans, you can enjoy the benefits of a commercial EV charging station without the heavy out-of-pocket costs. Contact us to learn more.
Why Choose Blake Brothers?
Instant schedule confirmation
Book online now to receive your appointment confirmation.
Affordable service, transparent pricing.
Honest, upfront pricing for all our services. No surprises, hidden fees, or extra charges
Available 24/7 for emergencies
HVAC, electrical, or plumbing emergency? Call us!
WWe're at your service any time of the day or night.
Excellent Financing
Monthly payment plans to fit any budget – finance any major repair or replacement.
Blake Brothers has Technicians Ready to Assist with Emergency Charging Stations in
Plumbing License # CO51200005
We provide HVAC, electrical, and plumbing services throughout Alabama. Click the link below to find out if our services are available in your area.
"Jared did an excellent job diagnosing our HVAC issue. He was able to perform the service in a timely manner and was able to answer every question I had regarding our system!" ---Justin Colar