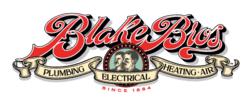 We can handle all your​​ commercial electrical needs!
Are you building a new commercial space in Huntsville or buying an old one that requires fixing up? Blake Brothers has the perfect team for your commercial electrical service needs.
We have decades of experience performing electrical repairs and installations for commercial spaces. With us, your company is in good hands.
Our Process: Commercial Electrical Repairs
Book Instantly Online.
Click "Book Online" to schedule your service and receive instant confirmation.
A technician will visit your home.
We arrive at your property on time, inspect the issue, and let you know what to expect.
3
Blake Brothers will perform your commercial electrical repair.
We work fast to get your systems and services up and running ASAP!
Customer satisfaction guaranteed.
We stand behind our work. Call us anytime for post-service inquiries or concerns.
Top-Rated Commercial Electrical Service in Huntsville
You should only hire the best company to assist with commercial electrical services. That is why Blake Brothers has become the go-to for commercial building owners and managers in need of expert electrical system design, installation, repair, and maintenance in Huntsville and surrounding areas.
We provide a one-stop-shop for commercial electrical needs, including everything from commercial lighting and wiring to electrical fault detection and energy consumption recommendations.
Our team of highly skilled and trained electricians works with a variety of businesses and establishments throughout Northern Alabama. From retail to restaurants, schools, institutional facilities, and beyond, we understand the specialized electrical requirements of your business and industry.
When it comes to commercial electrical work, the experts at Blake Brothers have everything they need to do their jobs safely and effectively. We provide upfront pricing and can offer you a comprehensive explanation of our services, so you can make the best decision possible for your business.
Basic Services Offered by Commercial Electricians
Commercial electricians cover all types of electrical work at commercial properties, which are generally more detailed and demanding than residential ones. Most commercial electricians provide the following basic electrical services:
Commercial Lighting Needs
Lighting is probably the most common reason why a business would need an electrician. Lighting is an essential component of any commercial structure. And although some property owners may view this as a simple task, it is not.

Commercial lighting systems are often connected in ways that aren't seen in homes. Having a professional electrician on your side is very important for quality and safety.

Wiring-Related Concerns
Wiring is a significant aspect of commercial electrical systems, both for lighting and other purposes. Wiring connects all of the electrical parts in your building and makes it easier for them to work together. If the wiring is not done properly, you will encounter a slew of problems over time.
Lighting Upgrades/Retrofits
Many businesses are upgrading and/or retrofitting their lighting to save money on energy costs and reduce their carbon footprint. Professional commercial electricians are not only knowledgeable in the field but also skilled at working around existing infrastructure to minimize disruptions to regular business operations.
Electrical Panel Installation/Upgrades
Powering commercial buildings to their full potential calls for more robust electrical infrastructure, which boils down to the electrical panel. Electricians can make improvements to your current electrical panels or put in new ones that will better meet your needs.
Electrical System Repair/Maintenance
Regardless of the type of electronic equipment your company uses, you can rely on the experts at Blake Brothers to handle even the most complex electrical issues.

We can also make a custom maintenance plan for your business to keep your electrical services and systems up to code and running well. This will reduce the chance of unexpected breakdowns and the costs that come with them.

Compliance
No matter where your building is located, it must follow local regulations for basic electrical code compliance, which includes both safety and practical considerations. Hiring a professional commercial electrician who knows and has experience with the rules in your area makes it much easier to meet these standards.
24/7 Emergency Electrical Service
Since Blake Brothers is available 24 hours a day, 7 days a week, you can be sure that your system and services will be back up and running as soon as possible.

If your electrical system stops working, you can call our customer service team to talk about your needs and set up a time for our technician to come look at the problem and fix it.
Signs You Need Commercial Electrical Repairs
At some point, you will need to get your commercial electrical system fixed. Typically, these repairs are required due to inadequate maintenance and/or a growing problem that has been overlooked.
Problems that go unnoticed can cause a catastrophic system failure. Creating disorder and disruption in the workplace while also posing potential risks. By calling in a professional electrician to handle the issue as soon as possible, you reduce the risk of harm and inconvenience the issues may cause to the building and its occupants.
Here are some indications that your commercial property may require electrical repairs:
Frequent Electrical Surges. Electric surges happen when wiring problems occur in high-power devices such as elevators, commercial air conditioners, and refrigerators. Long-term exposure can cause permanent damage to the electrical equipment and decrease its lifespan, which is why these surges should be dealt with immediately.
Power Sags and Dips. Are you experiencing power issues in your building? You may be experiencing power fluctuations because of a problem with your electrical grid. Basically, this means that your electrical grid is working overtime to meet demand. If this issue isn't fixed right away, it could result in sky-high electricity bills and a slew of other expenses.
Burnt-out Lightbulbs. If you have noticed that your light bulbs are burning out way too fast, it is likely that there is a problem with the electrical system in your building. It could be that the voltage in your building is too high or your wiring is poorly installed.

It's easy to replace a lightbulb, but you need to address these issues at the source, so they don't end up becoming a bigger problem down the road.

If you find yourself needing a commercial electrician in the Huntsville area, you can always count on Blake Brothers to get the job done fast and correctly the first time.
Low Monthly Payments Financing for HVAC, Electrical, and Plumbing Services
Convenient financing options available!
As part of our commitment to helping business owners and establishments, we offer flexible financing options for our commercial electrical services in the Huntsville area. Contact us today to learn more.
Why Choose
Blake Brothers?
Instant schedule confirmation
Book online now to receive your appointment confirmation.
Affordable service, transparent pricing.
Honest, upfront pricing for all our services. No surprises, hidden fees, or extra charges.
Available 24/7 for emergencies.
HVAC or plumbing emergency? Call us!
We're at your service any time of the day or night.
Excellent Financing
Monthly payment plans to fit any budget – finance any major repair or replacement.
Blake Brothers has Technicians Ready to Assist with Commercial Electrician in
Plumbing License # CO51200005
We provide HVAC, electrical, and plumbing services throughout Alabama. Click the link below to find out if our services are available in your area.
"Jared did an excellent job diagnosing our HVAC issue. He was able to perform the service in a timely manner and was able to answer every question I had regarding our system!" ---Justin Colar