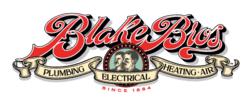 Top-Notch Electrical Services in Huntsville
Modern-day lifestyles rely on electricity for almost everything. We expect it to be available at the touch of a switch, and when it's not—well, you can only imagine the frustration.
The thing is, it's not always easy to find a reliable electrical service company. You'll find dozens of electricians in the Huntsville area, but many of them are often unavailable or unqualified to handle the job. Luckily, you have Blake Brothers to provide you with quality electrical services when you need them!
Our Process: Electrical Repair and Replacements
1
Book Instantly Online.
Click "Book Online" to schedule your service and receive instant confirmation.
2
A technician will visit your home.
We arrive at your property on time, inspect the issue, and let you know what to expect.
3
Blake Brothers will perform your electrical service.
We provide effective and long-lasting solutions to all your electrical needs.
4
Customer satisfaction guaranteed!
We stand behind our work. Call us anytime for post-service inquiries or concerns.
Huntsville's Most Reliable Electrical Service Company
It is never a good idea to attempt to solve an electrical system issue on your own. Some home maintenance problems are easy to fix on your own, but electrical problems need the expertise of a licensed electrician who takes all the necessary safety measures.
Blake Brothers has the manpower and expertise to complete any electrical work to your satisfaction. Whether you need basic electrical system repairs and upgrades or a custom installation, our knowledge of the ever-changing industry allows us to come up with effective, long-lasting, and often innovative solutions you can count on.
By working with us, you'll have access to the finest electrical team and services in all of Huntsville. We've been in the business for decades and are proud to bring reliable electrical solutions to homes and establishments in the Huntsville area.
Blake Brothers' Full-Range of Electrical Services
There are a few characteristics you must look for in an electrician or electrical service provider: expertise, experience, reasonable pricing, and dependability. Blake Brothers possesses all of these characteristics—and more!
Don't hesitate to call us anytime you need the following electrical services in Huntsville:
We can handle anything from installing a new outlet to rewiring your entire home. Our electricians are trained and knowledgeable about industry standards and safety regulations. Rest assured that your home and family are safe with us.
Commercial Electrical Services
Blake Brothers is the one-stop-shop for all your commercial electrical needs in Huntsville. We handle everything electricity-related—from commercial lighting and wiring to electrical fault detection and energy efficiency recommendations.
Due to the critical nature of electrical problems, we offer emergency repair services whenever they are needed. We have electricians on call to assist you with any issues you may be having, day or night.
Take control of your electric vehicle charging needs with an expertly installed EV charger by Blake Brothers. Installing an EV charger in your home or place of business has never been simpler or more affordable thanks to our financing offers!
Are you looking to create a fully integrated smart home to keep things simple and convenient? We got you covered! We'll assess your lifestyle needs and outline smart home solutions to help you meet them.
Hiring a licensed electrician will protect you from potential electrical shocks and fire hazards and ensure that all work is code-compliant. For top-notch electrical services in Huntsville, Alabama, turn to Blake Brothers Plumbing, Electrical, Heating & Air. We address electrical problems at the source to eliminate any potential future threats that can put your family's safety and financial stability at risk.
When to Call an Electrical Service Professional
If you're an avid "do-it-yourselfer," you probably won't bother calling a professional until you've exhausted every possible option. But when it comes to electrical matters, you really need to consider if going the DIY route is worth the risk involved.
For your safety, make sure to call an electrician in the following situations:
Breakers tripping constantly. It's normal for a circuit breaker to trip every now and then. However, if this keeps happening, it could mean that your panel cannot handle the load anymore.
Burning smells coming from the panel or outlets. This may indicate that you have some old wiring smoldering somewhere. Left unattended, it could result in an electrical fire.
Dimming and flickering lights. Don't worry; your home is not haunted.  However, you could be experiencing power fluctuations due to an overloaded circuit.
Lack of knowledge or skill. If there is electrical work that needs to be done but you aren't confident in your ability to do it safely, it's best to call a professional. No, doing electrical work is not something you can just "learn as you go," and we highly recommend against it.
You should never mess around with electricity, which is why you should always have the number of a trustworthy local electrician handy. When you need electrical work done in Huntsville, you can always count on Blake Brothers to get the job done quickly and correctly.
Regardless of the size of the project, our electricians will tackle it with the same level of urgency and professionalism. We deliver turnkey solutions that exceed your expectations in terms of safety, quality, and value.
Low Monthly Payments Financing for HVAC, Electrical, and Plumbing Services
Convenient financing options available!
Contact us to find out how you can take advantage of our flexible monthly payment plans for any of our major repair or replacement services.
Why Choose
Blake Brothers?
Instant schedule confirmation.
Book online now to receive your appointment confirmation.
Affordable service, transparent pricing.
Honest, upfront pricing for all our services. No surprises, hidden fees, or extra charges.
Available 24/7 for emergencies.
HVAC or plumbing emergency? Call us!
We're at your service any time of the day or night.
Excellent Financing
Monthly payment plans to fit any budget can finance any major repair or replacement.
Blake Brothers has Technicians Ready to Assist with Electrical Services in
Plumbing License # CO51200005
We provide HVAC, electrical, and plumbing services throughout Alabama. Click the link below to find out if our services are available in your area.
"Jared did an excellent job diagnosing our HVAC issue. He was able to perform the service in a timely manner and was able to answer every question I had regarding our system!" ---Justin Colar