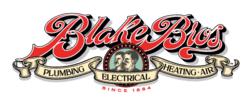 Minimally-invasive sewer line replacement in Huntsville, AL.
There are a variety of reasons for sewer damage. The most common causes include pipe corrosion, root overgrowth, poor maintenance, and general wear and tear.
Repair is your first line of defense for sewer failure. However, there are instances where the damage is too big or complicated to fix, and you have no choice but to replace it.
When you need sewer line replacement in the Huntsville, AL area, look no further than Blake Brothers Plumbing, Electrical, Heating & Air! In our 137 years in the business, we've replaced countless sewers in Huntsville, AL and beyond. Get in touch with us today, and we'll send over a team of experts to diagnose and remedy the problem safely and efficiently.
Our Process: Sewer Line Replacement
Book Instantly Online.
Click "Book Online" to schedule your service and receive instant confirmation.
A technician will visit your home.
We arrive at your property on time, inspect the issue, and let you know what to expect.
3
Blake Brothers will perform your sewer line replacement.
We inspect and diagnose your sewer line and then replace them if needed.
Customer satisfaction guaranteed.
We stand behind our work. Call us anytime for post-service inquiries or concerns.
Sewer Line Replacement Pros in Huntsville, AL
Sewers are notoriously complex systems, especially in older homes and buildings. As such, it would be in your best interest to hire reputable professionals who can trace the problem's source and come up with first-rate, long-lasting solutions.
Blake Brothers plumbing uses cutting-edge equipment to determine the extent of your sewer damage. Our process begins with a camera inspection of your pipe, followed by a series of tests that allows us to properly diagnose the condition of your pipes. We only recommend replacement in cases where repair is not possible or not the most cost-effective option.
Choosing Blake Brothers means access to the services and expertise of certified technicians trained to repair and replace sewer pipes safely and in a sanitary manner. Even if the replacement process requires major excavations on and around your property, our crew will ensure the safety of your home or business environment while minimizing disruptions and inconveniences to your daily routine.
When the job is done, we remove all excess debris and leave your property in better shape than we found it.
Is It Time to Replace Your Sewer Line?
Most people only pay attention to their sewer lines when something goes wrong. By then, the problem has most likely spread and caused serious damage to your pipes and property. But the big question is, how do you decide whether repairs are enough or if a replacement is necessary to get your sewer system working smoothly again?
When dealing with a sewage line problem, it's a good idea to consider all your options and take note of the following factors:
The age of your sewer line

The material of your pipes

The degree of pipe damage

The likelihood of future repairs

The cost-effectiveness of the solution
If you're lucky, a trenchless repair is all you need to solve your sewage problem. However, if your main line is too old (more than 15 years), made of old pipe materials (galvanized steel or copper), prone to breakdowns, or the pipes have become brittle and fragile with age, it may be time to replace the entire system.
Blake Brothers does not rush to replace your sewer line. We inspect the system thoroughly before making a diagnosis because we believe it is our duty as a local plumbing company to make the most suitable recommendation for your property and budget.
Replacing your sewer line is an investment, and we guarantee to provide honest, competent advice and transparent pricing for our services. Our commitment to excellence and exceptional service is a matter of record, having been trusted and highly recommended by residents and commercial institutions in Huntsville and beyond.
Find out for yourself why we are the best at what we do.
Sewer Line Replacement Methods
Traditional Sewer Line ReplacementTraditional replacement is a pretty invasive method that entails digging a wide trench in your yard to locate and replace the entire length of your sewer piping.The process can take several days to complete as it often involves excavating multiple areas on your property, such as your lawn, patio, driveway, sidewalk, etc. Once the line replacement is complete, you'll have to deal with the damage to your landscapes and hardscapes.

Trenchless Sewer Line ReplacementProfessionals highly recommend the trenchless replacement because it is much less invasive than the traditional approach, digging only at strategic access points. Since there is no need for trenches, there is no significant damage to your property.The trenchless method is also referred to as "pipe bursting," a process involving destroying the existing line and replacing it with a new one.

While a trenchless replacement costs more than its traditional counterpart, it is often completed within a day and leaves little mess behind. You won't have to deal with the disruption for long or need to spend money on the repairs and clean-up afterward.

Sewer line replacements can be complex, stressful, and expensive, but you can always rely on Blake Brothers to make the process as smooth and pain-free as possible. Our polite and friendly technicians will respect your property and ensure the work is up to code.
Low Monthly Payments Financing for HVAC, Electrical, and Plumbing Services
Convenient financing options available!
Do you need to replace your sewer line but are worried about the potential cost? We've got you covered! Blake Brothers offers flexible financing options for our sewer repair and replacement services in Huntsville, AL. Get in touch with us to avail of this amazing offer.
Why Choose
Blake Brothers?
Instant schedule confirmation
Book online now to receive your appointment confirmation.
Affordable service, transparent pricing.
Honest, upfront pricing for all our services. No surprises, hidden fees, or extra charges
Available 24/7 for emergencies
HVAC or plumbing emergency? Call us!
We're at your service any time of the day or night.
Excellent Financing
Monthly payment plans to fit any budget – finance any major repair or replacement.
We provide HVAC, electrical, and plumbing services throughout Alabama. Click the link below to find out if our services are available in your area.
Blake Brothers has Technicians Ready to Assist with Sewer Line Replacement in
Plumbing License # CO51200005
We provide HVAC, electrical, and plumbing services throughout Alabama. Click the link below to find out if our services are available in your area.
"Jared did an excellent job diagnosing our HVAC issue. He was able to perform the service in a timely manner and was able to answer every question I had regarding our system!" ---Justin Colar