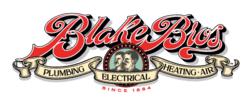 Superior air conditioner repair and replacement services in Huntsville
As great as modern central air conditioning systems may be, there is no way that you can expect your central air conditioner to function with 100% reliability at all times. And when you live in an area with hot and humid summers like Alabama, air conditioner breakdowns can be 10 times more stressful.
The professionals at Blake Brothers Plumbing, Electrical, Heating & Air provide fast and affordable AC repair and replacement services in Huntsville, and we would love the opportunity to earn your business. We will provide you with the expert and quality service you need to keep your home cool and comfortable throughout the summer season and beyond.
Our Process: Air Conditioning Repair
Book Instantly Online.
Click "Book Online" to schedule your service and receive instant confirmation.
A technician will visit your home.
We arrive at your property on time, inspect the issue, and let you know what to expect.
3
Blake Brothers will perform your AC repair service.
Our expert HVAC technicians will get your AC working again in no time!
Customer satisfaction guaranteed!
We stand behind our work. Call us anytime for post-service inquiries or concerns.
Huntsville's Leading AC Repair Service Company
In a perfect world, you would never have to deal with an AC breakdown at all. However, even a properly maintained unit can malfunction after years of continuous use. Occasional issues can crop up, and when they do, you want to know that your service provider will fix the problem quickly and properly.
Blake Brothers has been serving home and business owners in Alabama for decades now, and we never want to see you struggling or doing without comfortable conditions in your home. Whether you're dealing with an AC that won't turn on or a leaky compressor, or if you're just not sure what to make of your cooling system, you can always trust our team to offer a cost-efficient and friendly solution.
When it comes time to install, replace, maintain, or repair an air conditioning unit, don't hesitate to reach out to Blake Brothers Plumbing, Electrical, Heating, & Air. Whether you live in Huntsville, Athens, Madison, or Decatur, you can call on Blake Brothers at any time!
Tell-tale Signs of a Failing Air Conditioning System
Issues with air conditioners tend to arise at the worst possible moment. It's not uncommon for AC units to break down on an exceptionally hot day when the system is pushed to its limits. Having a properly working air conditioner is important to your family's comfort and health, so it's important to identify issues early, before they make things even more troublesome and inconvenient for you.
Moreover, being able to recognize the common warning signs of AC failure will save you money on repairs and early system replacement.
If you notice any of the following, you should call a reputable HVAC professional for air conditioning repair:
Broken or malfunctioning thermostat
Weak airflow or warm air flowing from your AC
Loud and weird noises coming from the unit
Strange or foul odors when AC is turned on
Frequent cycling and/or breakdowns
Freon or water leaks around the AC
Sudden spike in energy bills
Noticeable decline in indoor air quality
If any of these things occur, call Blake Brothers today to schedule an appointment with one of our trained technicians and get your system back in working order. We service and repair all major brands and types of air conditioners.
When is AC Replacement Necessary?
It can be difficult to decide whether to repair or replace an air conditioner when it breaks down. Obviously, you don't want to make the wrong choice and waste money on an AC replacement when repairing the unit still makes sense.
Taking these important things into account will help you decide if you need to replace your AC.
Age of Your AC Unit
If your air conditioner is over ten years old and breaks down quite often, its parts are probably already worn out and on the verge of failing. In this case, it would be better to replace your air conditioner before it stops working completely.
Energy-efficiency
Have you been noticing an unusual spike in your energy bills? Your air conditioning system may be working harder and consuming more electricity than necessary. Consider upgrading to a newer and more efficient model to save on utility costs.
Refrigerant
Concerns about R-22's impact on the ozone layer led the EPA to order its phase-out. As this refrigerant becomes increasingly scarce, its once-affordable price has multiplied tenfold. It is more economical to replace your air conditioner if it still uses R-22.
Frequency of Repairs
Is your air conditioner prone to breakdowns? That's a pretty blatant sign that you need to upgrade. It's possible that one of your air conditioner's key components, like the compressor or condenser, is failing. Because these parts are expensive to replace, it's usually more cost-effective to get a new unit.
Repairs Costs
Do you have to pay a lot of money every time your unit breaks down? Why not just purchase a brand new air conditioner? Multiply the age of your current unit by the cost of repairs. If the result is almost equal to or higher than the price of a new unit, then it makes perfect sense to go ahead and replace it.
If you are planning to have your existing air conditioner replaced, you'll be glad to know that Blake Brothers offers superior air conditioner replacement services as well.
Unlike some other companies, we will not simply remove your old AC system and replace it with a new one. We'll examine the air handler and ductwork to determine what type of units would work best for your home and suggest an energy-efficient upgrade that matches your needs and budget.
We also offer AC maintenance plans to help ensure that your new AC unit functions as reliably and efficiently as possible for a long time.
24-hour Emergency AC Repair
An air conditioner isn't a luxury when you're living in the state of Alabama—it's an absolute need. When the heat is pouring on, but your air conditioner isn't cutting it, you need a solution immediately, not hours or days from now. But don't worry; the Blake Brothers team has you covered. We offer emergency AC solutions in a timely and efficient manner.
As soon as we get your call for emergency service, we immediately set out to help. Each member of our Huntsville emergency AC repair team is trained to handle emergency cooling system situations. This means that we have the necessary tools and diagnostic equipment to provide complete service, as well as the expertise and dedication to execute the repair effectively.
Low Monthly Payments Financing for HVAC, Electrical, and Plumbing Services
Convenient financing options available!
Do you need an emergency AC repair? We offer flexible financing for major repairs and replacements, so you can have your air conditioner fixed now and just pay for repair costs over time!
Why Choose
Blake Brothers?
Instant schedule confirmation.
Book online now to receive your appointment confirmation.
Affordable service, transparent pricing.
Honest, upfront pricing for all our services. No surprises, hidden fees, or extra charges.
Available 24/7 for emergencies.
HVAC or plumbing emergency? Call us!
We're at your service any time of the day or night.
Excellent Financing
Monthly payment plans to fit any budget can finance any major repair or replacement.
Blake Brothers has Technicians Ready to Assist with AC Repair in
Plumbing License # CO51200005
We provide HVAC, electrical, and plumbing services throughout Alabama. Click the link below to find out if our services are available in your area.
"Jared did an excellent job diagnosing our HVAC issue. He was able to perform the service in a timely manner and was able to answer every question I had regarding our system!" ---Justin Colar