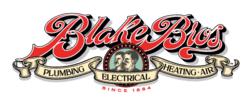 Reliable and effective water line repair and replacement in Huntsville, AL and surrounding areas.
Of the many crises a homeowner can face, a water line break is one of the most distressing. The water service line is arguably the most vital pipe in your plumbing system. But due to extensive use, water pressure, and its underground location, it can develop a range of issues over time.
A damaged water line can cause significant disruption to daily life and may pose risks to your property if not addressed promptly. If you suspect something's wrong, don't waste time and contact Blake Brothers right away! We are available 24/7 for plumbing situations that demand our immediate attention.
Our Process:

Water Line Replacement and Installation
Book Instantly Online.
Click "Book Online" to schedule your service and receive instant confirmation.
A technician will visit your home.
We arrive at your property on time, inspect the issue, and let you know what to expect.
3
Blake Brothers will perform your Water Line Replacement or Installation
We use time-honored methods and cutting-edge technology to do the job fast and efficiently.
Customer satisfaction guaranteed.
We stand behind our work. Call us anytime for post-service inquiries or concerns.
A Water Line Repair Company You Can Depend On
You don't want to take any chances when it comes to water line services in Huntsville, AL. To ensure that your water line installation and repair are up to code, choose to work with the trusted plumbing professionals at Blake Brothers!
Blake Brothers offers a wide range of water line repair and replacement services in North Alabama. For over 137 years, we've been providing superior plumbing solutions to our customers, earning the trust of the homeowners and residents of Huntsville, AL and beyond.
At Blake Brothers, we use time-honored techniques and cutting-edge technology in assessing the condition of your system and make our recommendations based on concrete evidence. You can count on us to take a proactive approach in tackling your water line issue. We'll fix it before it gets worse and causes you more trouble in the process.
Unlike some plumbing services, we do not charge by the hour. We provide transparent and upfront pricing, so you know exactly what and how much you're going to pay for.  Moreover, our plumbers are drug-tested and undergo extensive training to ensure the safety and satisfaction of our customers.
As your local plumbing experts, we take great pride in our work. We bring experience and expertise to every job, and the commitment to delivering quality, effective, and competitively-priced water line repair in Huntsville, AL and surrounding areas.
Signs You Need a Plumbing Contractor to Replace Your Water Line
You may not be able to easily access your water line to check for breaks or any risks to its integrity, but you will most likely notice signs of damage, if it happens.
These warning signs could mean it's time to call a plumbing contractor for a water line replacement.
Water Discoloration – A brown tint in your water could indicate the presence of rust, dirt or soil due to corrosion or cracks in your water line.
Sudden Drop in Water Pressure – A worsening low water pressure problem in your home could be a sign of a fairly large leak.
Unusual Increase in Water Bills – An abnormally high water bill is another common sign of a leaking water line. Turn off all your faucets and check if your meter is still running even when you're not using any water.
Standing Water in Your Lawn – Are there puddles in your yard all the time? Call a plumbing professional as soon as possible.
If you observe any of these signs on a regular basis, call Blake Brothers and we'll come out to inspect your plumbing without delay.
When it comes to plumbing issues, inaction almost always results in more damage and additional costs. You'll save yourself a lot of stress and money if you catch these problems and fix them during the early stage of damage.
Benefits of Professional Water Line Installation and Repair
Water line installation is a complex process that requires knowledge and adherence to state and local codes. Moreover, you need skill, training, and the right tools to do the job properly.
Here are five good reasons why you should hire a qualified professional to install or repair your water line:
Expertise and Equipment – You will not only benefit from the experience of professional plumbers but from their access to proper equipment as well. Done right, a new water line will help keep your expenses low and future repairs to a minimum.
Time and Cost Savings – You may end up wasting a lot of time and causing more damage if you try to fix your water line on your own just to save money on labor costs.
Convenience – Reliable plumbing companies like Blake Brothers use cutting-edge technology to speed up and reduce the invasiveness of the process. We can complete most replacements in a day.
Insurance Compliance – Plumbing companies have insurance to safeguard their customers in case something goes wrong/ gets damaged during the job.
Familiarity with Plumbing Codes – Local plumbers are well-versed with the various plumbing and building rules of the area, so everything is done according to code.
Should you need a water line installation or replacement, the plumbing experts at Blake Brothers will ensure that the job is completed quickly and effectively, and that your new water line works seamlessly with the rest of your plumbing system.
Low Monthly Payments Financing for HVAC, Electrical, and Plumbing Services
Convenient financing options available!
Costs are often a major issue when faced with a plumbing emergency. Some people even hesitate about getting their water lines fixed, worried about the potential expenses.
Our team at Blake Brothers understands how essential fully-functional plumbing is to your comfort. This is why we offer flexible financing options for our installation, repair, and replacement services in Huntsville, AL.
Why Choose Blake Brothers?
Instant schedule confirmation
Book online now to receive your appointment confirmation.
Affordable service, transparent pricing.
Honest, upfront pricing for all our services. No surprises, hidden fees, or extra charges
Available 24/7 for emergencies
HVAC or plumbing emergency? Call us!
We're at your service any time of the day or night.
Excellent Financing
Monthly payment plans to fit any budget – finance any major repair or replacement.
Blake Brothers has Technicians Ready to Assist with Water Line Repair in
Plumbing License # CO51200005
We provide HVAC, electrical, and plumbing services throughout Alabama. Click the link below to find out if our services are available in your area.
"Jared did an excellent job diagnosing our HVAC issue. He was able to perform the service in a timely manner and was able to answer every question I had regarding our system!" ---Justin Colar