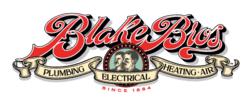 Huntsville's Surge Protection Experts
Today's homes are packed with sensitive appliances and electronics, and a single power surge can damage them all. Investing in whole-home surge protection is the best way to protect your expensive equipment from being destroyed, and our expert electricians at Blake Brothers can make sure you have exactly what you need.
We offer comprehensive whole-home surge protection services in the Huntsville area to help safeguard your computer, television, stereo equipment, and other electronics.
Our Process: Commercial Electrical Repairs
Book Instantly Online.
Click "Book Online" to schedule your service and receive instant confirmation.
A technician will visit your home.
We arrive at your property on time, inspect the issue, and let you know what to expect.
3
Blake Brothers will perform your whole-home surge protector installation.
We help you choose and install a whole-home surge protector that fits your needs.
Customer satisfaction guaranteed.
We stand behind our work. Call us anytime for post-service inquiries or concerns.
Whole Home Surge Protection Services in Huntsville, AL
Many homeowners in the Huntsville, AL area think they are protected from power surges, only to discover they are not. And with all the electronics found in today's homes, if lightning strikes up to a mile away and causes a power surge, these devices could be destroyed in seconds. 
The thing is, your house doesn't have to be hit by lightning for a power surge to occur. In actuality, internal factors account for up to 80% of all electrical surges at home. A powerful enough electrical surge can:
Damage home appliances and electronics

Put your home at risk of electrical fires

Destroy older wiring and connections

Blow out fuses

Disconnect switches and outlets.
Protect your home from these untimely and potentially dangerous occurrences by installing a whole-home surge protector today. 
For reliable whole-home surge protection services in Huntsville, AL and the surrounding areas, turn to the experts right here at Blake Brothers Plumbing, Electrical, Heating & Air. Our licensed electricians will carefully look at your electrical system and suggest the best surge protection options for you.
We have the experience, expertise, and equipment to safely modify your circuit breaker for whole-home surge protector installation, giving you the ultimate peace of mind that your home and your wallet are protected.
The Importance of Whole Home Surge Protection
Even if you have a surge protector on major appliances, like most people do, that still leaves the rest of your home vulnerable. 
Whole-home surge protectors add an extra layer of safety against potentially dangerous power spikes. The addition of this simple device can provide you with the following benefits:
Protects your home appliances


When there is an electrical surge, a whole-house surge protector quickly reacts to cut off the excess current or voltage. This keeps your home's electrical system safe from dangerously high voltages that could cause damage to your appliances and gadgets.

Protects your electrical system


A whole-house surge protector safeguards not only your electrical appliances but also your entire electrical system (wiring, sockets, and circuits) by stopping electrical surges from getting into your home in the first place. Without proper protection, a major power surge can cause extensive damage to your home's electrical system, and you'll have to replace potentially thousands of dollars' worth of wiring.

Provides peace of mind for yourself and your family


What's worse is that electrical surges are typically not covered by homeowner's insurance. So, if a power surge does cause costly damage to your electronics and home's electrical system, you'll have to pay for everything out-of-pocket. Luckily, this expensive situation can be avoided entirely by installing a whole-house surge protector.
How Whole-Home Surge Protectors Works
Whole-house surge protectors are wired into the electrical panel. Like a filter, it only allows safe electric current to enter your home's electrical system and blocks anything more than what is necessary. When the device detects a voltage or current spike, it acts right away and diverts the extra energy through a ground wire into the ground. This keeps your electrical equipment from burning out and, in some cases, starting electrical fires.
Investing in whole-home surge protection can extend the life of electrical equipment by up to 30% and is one of the best ways to avoid catastrophic loss. Moreover, homeowners that equip their homes with surge protection devices often qualify for insurance discounts. And while surge protector strips work to an extent, they are no match for whole-house surge protectors.
Common Causes of Power Surges
A power surge can occur and dissipate in a fraction of a second but has the potential to destroy your appliances and crash your computers. 
To grasp the importance of protecting your home against electrical surges, you need to understand what causes them in the first place. 
The most common causes of power surges include:
Downed/damaged power lines 


Fallen power lines in the area, which usually happen during storms and high winds, can send bursts of overvoltage into your home. This can damage electronics, appliances, and your whole electrical system.

High demand for electricity 


There can be power surges as a result of blackouts or brownouts. This is often the case when there's a sudden change in electricity use in your neighborhood or weather conditions that demand extended use of certain home appliances.

Power cycling of home appliances


Power fluctuations can be caused by turning on and off appliances that use a lot of energy. In fact, internal electrical cycling is what causes 80% of power surges in homes. The effects of these slight power surges might not be immediately apparent, but they can damage your electronics and appliances over time, affecting their performance. 

Defective wiring 


When was the last time you had your electrical system inspected? Oftentimes, the wiring in older homes isn't up to the task of supporting all of today's appliances and electronics. Outdated or improperly installed wiring can also lead to power surges.

Lightning strikes


The most severe power surges are caused by lightning. A single lightning strike can cause electrical surges of over 50,000 volts, which can destroy your home's electrical system in a split second. And while whole-home surge protectors cannot prevent all this power from entering your electrical system, they can help reduce its impact.
Low Monthly Payments Financing for HVAC, Electrical, and Plumbing Services
Convenient financing options available!
As part of our commitment to helping business owners and establishments, we offer flexible financing options for our commercial electrical services in the Huntsville area. Contact us today to learn more.
Why Choose
Blake Brothers?
Instant schedule confirmation
Book online now to receive your appointment confirmation.
Affordable service, transparent pricing.
Honest, upfront pricing for all our services. No surprises, hidden fees, or extra charges.
Available 24/7 for emergencies.
HVAC or plumbing emergency? Call us!
We're at your service any time of the day or night.
Excellent Financing
Monthly payment plans to fit any budget – finance any major repair or replacement.
Blake Brothers has Technicians Ready to Assist with Whole Home Surge Protection in
Plumbing License # CO51200005
We provide HVAC, electrical, and plumbing services throughout Alabama. Click the link below to find out if our services are available in your area.
"Jared did an excellent job diagnosing our HVAC issue. He was able to perform the service in a timely manner and was able to answer every question I had regarding our system!" ---Justin Colar