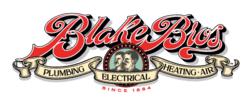 Seasoned Tankless Water Repair Professionals in Huntsville, AL.
Tankless water heaters are a convenient replacement for traditional water heaters. They are less expensive to operate, use less energy, and pose no risk of unpleasant leaks. Over time, however, their components will eventually deteriorate due to normal wear and tear.
No one enjoys an ice-cold shower. If your tankless water heater suddenly stops working, contact a trusted local plumber immediately. For the residents of Huntsville and the neighboring areas, the master plumbers at Blake Brothers can take care of your tankless water heater repair and maintenance needs.
Our Process: Sewer Line Replacement
Book Instantly Online.
Click "Book Online" to schedule your service and receive instant confirmation.
A technician will visit your home
We arrive at your property on time, inspect the issue, and let you know what to expect.
3
Blake Brothers will perform your tankless water heater repair.
We carry out the repairs and clean up after ourselves when we're done.
Customer satisfaction guaranteed
We stand behind our work. Call us anytime for post-service inquiries or concerns.
Trusted Tankless Water Heater Repair Company in Huntsville, AL
We understand how frustrating it can be to not have access to hot water, but don't rush into buying a new water heater just yet. Contact Blake Brothers to check your unit first. There's hardly a plumbing issue we can't fix.
Blake Brothers Plumbing, Electrical, Heating, & Air services almost any brand or model of water heater, but we're especially good at fixing older ones. Unless your heater is damaged beyond repair, you can count on us to get it back up and running in no time.
To ensure the safety and satisfaction of our clients, we conduct extensive background checks on all of our technicians and update their training with the industry's latest developments and repair methods. We use cutting-edge technology and only the highest quality materials to make sure every service call is done to code.
Common Signs of a Failing Tankless Water Heater
As water is constantly being pumped in and out of the tank, sediment can build up at the bottom, causing a wide array of issues such as clogs, reduced water pressure, and poor heating, among other problems. While preventative maintenance is key to keeping your water heater in tip-top shape, eventually, even that won't be enough to stave off the effects of wear and tear.
In most cases, there are telltale signs that it's time to call in the experts.
Some warning signs to look for include:
Lukewarm water. If your water heater cannot keep water hot, it could be due to a broken exchanger or debris build-up within.
Cloudy/murky water. Cloudy or murky water is a common sign that mineral deposits are clogging your unit. This is likely the case if you detect a potent, unpleasant odor coming from your tap water.
Malfunctioning valve. Minerals and rust can build up and cause your tankless heater's TPR valve to freeze, making it harder for your unit to heat water.
Loud, disturbing noises. The loud noises coming from your water heater may be due to mineral deposits in the tank. This usually indicates that something is broken or that your system requires maintenance.
Don't take chances with a handyman or a do-it-yourself project if you need hot water. At Blake Brothers, we take a systematic approach to diagnosing tankless water heater issues. Once we figure out the root of the problem, we'll recommend cost-effective solutions that will save you money and effectively address the underlying problems.
How Tankless Water Heaters Work
Tankless water heaters, in contrast to their conventional counterparts, do not require large storage tanks. These energy-saving units use a heat exchanger to heat water on demand, eliminating the energy waste caused by standard water heaters.
Point-of-use heating and cooling systems have a heat exchanger that transfers heat from the unit's heat source (electric coils or a gas burner) to the user. Water is immediately heated as it passes through the tankless unit, giving you unlimited access to instant hot water!
Benefits of Using a Tankless Water Heater
Tankless water heaters are truly as impressive as they sound. They are tangible proof of how technology finds more and more ways to make our lives easier while reducing our environmental impact.
Among the most notable advantages of installing a tankless water heater are:
More energy efficient.

Unlike tanked heaters, tankless units only heat water when it is needed. This eliminates the wasteful practice of heating more water than necessary, reducing monthly utility costs.

Lesser leaks.

Since there's no unused water sitting in a big tank all day, the chance of a leak happening is almost nonexistent.

Hot water on demand.

You can have hot water whenever you want it. No more waiting several hours for the water to heat up after someone takes a shower.

Longer lifespan.

Tankless water heaters last almost twice as long as traditional units, which only last up to 15 years.
Here at Blake Brothers, we will always try to fix instead of replacing, but we will be honest with you if we believe it is beyond repair. You can rely on us for honest assessments and sound, expert advice.
Schedule your tankless water heater repair with us today! We are available 24/7 for plumbing situations that require our immediate attention.
Low Monthly Payments Financing for HVAC, Electrical, and Plumbing Services
Convenient financing options available!
You don't have to go through another day without access to hot water. Blake Brothers offers flexible financing options for our tankless water heater services in the Huntsville area. Contact us to know more about this offer.
Why Choose
Blake Brothers?
Instant schedule confirmation
Book online now to receive your appointment confirmation.
Affordable service, transparent pricing.
Honest, upfront pricing for all our services. No surprises, hidden fees, or extra charges.
Available 24/7 for emergencies
HVAC or plumbing emergency? Call us!
We're at your service any time of the day or night.
Excellent Financing
Monthly payment plans to fit any budget – finance any major repair or replacement.
Blake Brothers has Technicians Ready to Assist with Tankless Water Heater Repairs in
Plumbing License # CO51200005
We provide HVAC, electrical, and plumbing services throughout Alabama. Click the link below to find out if our services are available in your area.
"Jared did an excellent job diagnosing our HVAC issue. He was able to perform the service in a timely manner and was able to answer every question I had regarding our system!" ---Justin Colar