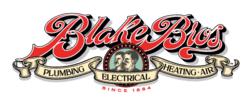 Northern Alabama's Go-To Emergency Electricians
Electrical hazards shouldn't be taken lightly because they contribute to about one-third of all structure fires. The first step is to know when you need emergency help. If you think there is a threat, you should call an emergency electrician for help.
Hiring a professional ensures that all work is code-compliant and protects you from potential electrical shocks and fire hazards. With Blake Brothers Plumbing, Electrical, Heating, & Air, you get high-quality emergency electrical services in Huntsville, AL. We'll fix the issue at the source and make sure that there aren't any hidden dangers that may emerge anytime soon.
Our Process: Emergency Electrical Repairs
Book Instantly Online.
Click "Book Online" to schedule your service and receive instant confirmation.
A technician will visit your home.
We arrive at your property on time, inspect the issue, and let you know what to expect.
3
Blake Brothers will perform your emergency electrical repair.
We complete emergency repairs quickly and effectively. We'll have your electrical systems up and running in no time!
Customer satisfaction guaranteed.
We stand behind our work. Call us anytime for post-service inquiries or concerns.
24-Hour Emergency Electrician in Huntsville, AL
Making sure your house is code-compliant is more crucial than ever. Households use more electronic devices today than in any of the previous decades. With such a high demand for power, it makes sense to ensure that your home's electrical system is up to the task.
In case of an electrical emergency, we'll check your system for any potential problems or dangers. Then, for each problem we uncover, we'll propose cost-effective and long-term solutions. Rest assured, all of our work meets local and state regulations and adheres to the highest industry standards; these are just a few of the reasons why we're among the top emergency electrical contractors in the Huntsville area.
The stakes are high when dealing with electrical issues, not least because they can threaten the safety of your entire home. About a third of all house fires are started by faulty electrical wiring, putting your family's safety and financial stability at risk. In the event of an electrical emergency, time is of the essence, which is why Blake Brothers offers emergency electrical services 24/7, 365 days a year. When electrical problems happen, you can count on our licensed professionals to fix them quickly, safely, and effectively!
Common Electrical Emergencies
Even if you routinely schedule electrical inspections, dangerous situations may still arise. Because of this, you'll need a reliable electrician who can respond quickly, check things thoroughly, and fix issues as soon as possible.
Here are some of the most common electrical problems that can happen in your Huntsville home:
Power Outages
When the electricity goes out, it's usually because of a problem with the power grid. However, problems with your home's electrical system can also cause power outages.

If the entire neighborhood is without electricity, you must contact the electric company. However, if the problem is confined to your home, turn off all appliances, outlets, and lights by cutting power at the source, and then contact your trusted local electrician immediately.

Electrical Fires
The most common cause of electrical fires is a faulty electrical system, but faulty appliances can also be to blame. Electrical fires are extremely hazardous. Your home should have at least one fire extinguisher and a number of working smoke alarms, just in case.

Even if you get the fire out, do not turn your power back on. Instead, call an electrician to come look at your electrical system, find the problem, and fix it.

Burnt Outlets
If an outlet becomes extremely hot, catches fire, or appears brown or black, there is a problem with that circuit. Putting off fixing it could result in an electrical fire and much higher repair costs.

If any of the following things happen to your outlet, turn off the power at the breaker box and unplug everything from your outlets. Unless the outlet catches fire, there is no need to call the authorities in this situation. You'll need to contact an electrician right away, however, so necessary repairs can be made.

Circuit Breaker Failure (Short Circuits)
Your circuit breaker box keeps your circuits from overloading and short-circuiting, which are both signs of serious electrical problems.

When an overload or short circuit occurs, the first thing you need to do is turn off the power at the source (typically the circuit breaker box) to prevent electrical hazards. As long as the short circuit does not cause electrical shock or a fire, there is no need to contact the authorities. Immediately call an electrician to inspect and repair your electrical system.

Tripping Breakers
If your circuit breakers trip frequently, it's because you are using more electricity than your electrical system can handle. This usually happens in older homes with outdated electrical systems.

To solve this problem, you may need to contact an electrical contractor for an electrical upgrade or consider switching to energy-efficient appliances.

At Blake Brothers, your safety is our priority. If you have an electrical emergency, we are here to assist you 24/7. Call us anytime you need our help.
Reasons to Call Professional Electrician for Emergency Electrical Repairs
When you have an electrical emergency on your property, you'll need the help of a qualified electrician who knows how to handle dangerous situations. Below, we list the top six reasons why:
Safety. Hiring a professional electrician is an investment in your family's safety, both in the moment and for the long term. Shoddy repairs can pose safety hazards down the road.
Experience. Hire a professional if you don't know how to troubleshoot and repair certain parts of your electrical system. Experience is indispensable for accurately diagnosing and repairing electrical issues.
Licensed and Certified. Our licensed electricians are capable of performing the necessary repairs safely and in accordance with the National Electrical Code (NEC).
Quality Work. You can have confidence that the work is done safely when you hire a professional electrician for emergency repairs. With Blake Brothers, you have our 100% satisfaction guarantee.
Prompt, On-time Service. We have a 24-hour emergency electrician who can help you, so you don't have to worry about a possible electrical hazard for the rest of the night.
Peace of Mind. Choosing Blake Brothers means bringing Huntsville's best and most trusted into your home. For your safety and peace of mind, our electricians are highly trained, thoroughly screened, and backed by the best guarantees in the business.
Are DIY Electrical Repairs Safe?
While it's possible that you could handle minor electrical repairs on your own, we strongly advise against it. When something has gone seriously wrong with your electrical system, there's already the risk of electrical fire, and this risk increases when you try to fix the issue yourself. Any attempt at emergency electrical repairs should be left to a professional.
Low Monthly Payments Financing for HVAC, Electrical, and Plumbing Services
Convenient financing options available!
To ensure that every home in the Huntsville area is protected from fire risks and hazards, we offer flexible financing options for our emergency electrical services. Find out more about this offer by speaking to one of our technicians. Contact us today!
Why Choose
Blake Brothers?
Instant schedule confirmation
Book online now to receive your appointment confirmation.
Affordable service, transparent pricing.
Honest, upfront pricing for all our services. No surprises, hidden fees, or extra charges.
Available 24/7 for emergencies.
HVAC or plumbing emergency? Call us!
We're at your service any time of day or night.
Excellent Financing
Monthly payment plans to fit any budget – finance any major repair or replacement.
Blake Brothers has Technicians Ready to Assist with Emergency Repairs in
Plumbing License # CO51200005
We provide HVAC, electrical, and plumbing services throughout Alabama. Click the link below to find out if our services are available in your area.
"Jared did an excellent job diagnosing our HVAC issue. He was able to perform the service in a timely manner and was able to answer every question I had regarding our system!" ---Justin Colar