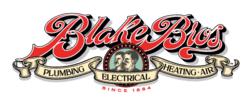 The Best Tankless Water Heater Installers in the Area!
Are you planning to purchase a new water heater or maybe looking to replace your old one? Why not go tankless this time?
Tankless water heaters are a practical alternative to standard water heaters. They operate at a lower cost, consume less energy, and pose no risk of unpleasant leaks.
If you need a water heater installed in the Huntsville area, call Blake Brothers. Let our master plumbers help you find the best solution for your home's water heating needs and budget.
Our Process: Tankless Water Heater Installation
Book Instantly Online.
Click "Book Online" to schedule your service and receive instant confirmation.
A technician will visit your home.
We arrive at your property on time, inspect the issue, and let you know what to expect.
3
Blake Brothers will perform your tankless water heater installation.
We can get your new tankless water heater up and running in a couple of hours.
Customer satisfaction guaranteed.
We stand behind our work. Call us anytime for post-service inquiries or concerns.
Professional Tankless Water Heater Installers in Huntsville, AL
When it comes to water heaters, Blake Brothers Plumbing, Electrical, Heating, & Air can install and fix just about any make or model. If your heater is damaged beyond repair, we can help you upgrade to a tankless water heater from trusted brands in the industry.
To keep you safe and always satisfied with our services, we make sure our technicians are properly vetted and trained on the latest plumbing technologies and techniques. We use only the highest quality materials to ensure that every service call is completed according to code.
If you need a new water heater installed, avoid taking chances with a handyman or a do-it-yourself project. At Blake Brothers, we systematically approach tankless water heater installation. We have the expertise and experience to recommend appropriate and cost-effective solutions to your hot water needs and make sure your new water heater is installed properly to avoid unnecessary issues in the future.
Benefits of Tankless Water Heater
Tankless water heaters are also called on-demand water heaters because they provide hot water as needed. They don't store hot water anywhere; cold water travels the pipes and is heated through an electrical or gas-powered chamber when you turn on the hot water tap.
The very nature of a tankless water heater's operation offers numerous benefits, including:
Energy Efficiency. Tankless water heaters provide on-demand hot water without energy waste. A traditional gas tank unit will always have some heat loss because it has to keep reheating unused water in the tank.
Durability. The typical lifespan of an electrical appliance is between 20 and 25 years. You'll save money on your energy bills every month for the next two decades and won't have to worry about making another major purchase for a while.
Cost-effectiveness. Depending on the model you choose, a tankless water heater can cost between $400 and $1,000 on average. This can be a bit expensive, but with proper installation and maintenance, the investment will definitely pay off in the long run especially as electricity keeps getting more expensive.
Easy Installation. There's no need for gas lines or hot water plumbing systems to install a tankless water heater in your home, but you will need an expert to make sure the unit is properly grounded. The heating experts at Blake Brothers can complete the installation within an hour or two!
Space-saving design. Tankless models can be installed anywhere electricity is available, eliminating the need for additional space. They generate little to no heat, so they can be safely installed indoors. Plus, if you ever need more space in the future, you can simply move them to another location.
Low maintenance. With a tankless model, you won't have to worry about maintenance for at least a few years. Just make sure the filter is clean, and there are no traces of sediment build-up in your water.
Tank vs. Tankless Water Heater
There are two key considerations when deciding between a tanked and a tankless water heater in the Huntsville metro area. The first is your demand for hot water. The second is, of course, your budget.
How much hot water does your household need, and how quickly do you need it? While tankless water heaters can keep heating water for as long as needed, so you don't ever have to worry about an empty tank. However, there is also the issue of immediacy. Some tankless units take a few minutes to heat water, so you will have to wait longer for hot water.
A tankless system may be more expensive if you need multiple hot water lines. You'll need multiple units, which must be installed on cold water pipes leading to your taps or showers. The units themselves and the installation process will almost certainly cost more than a tank model. However, a tank model will incur significantly higher long-term costs because it constantly needs to heat large volumes of water, regardless of demand.
Hot water needs vary widely from house to house, so there is no one "best" option. The ideal solution depends on the needs and budget of the homeowner. So, whether you're sold on the energy-saving benefits of a tankless water heater installation or need to explore repair options, call Blake Brothers Plumbing, Electrical, Heating & Air. You can count on us for honest assessments and sound, professional advice.
Low Monthly Payments Financing for HVAC, Electrical, and Plumbing Services
Convenient financing options available!
Blake Brothers offers flexible financing options for our tankless water heater services in the Huntsville area, including tankless water heater installation. Call us or contact us online for more information on how to avail of this offer.
Why Choose
Blake Brothers?
Instant schedule confirmation
Book online now to receive your appointment confirmation.
Affordable service, transparent pricing.
Honest, upfront pricing for all our services. No surprises, hidden fees, or extra charges.
Available 24/7 for emergencies.
HVAC or plumbing emergency? Call us!
We're at your service any time of day or night.
Excellent Financing
Monthly payment plans to fit any budget – finance any major repair or replacement.
Blake Brothers has Technicians Ready to Assist with Tankless Water Heater Installation in
Plumbing License # CO51200005
We provide HVAC, electrical, and plumbing services throughout Alabama. Click the link below to find out if our services are available in your area.
"Jared did an excellent job diagnosing our HVAC issue. He was able to perform the service in a timely manner and was able to answer every question I had regarding our system!" ---Justin Colar