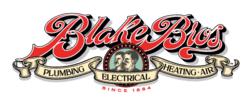 We keep your home's electrical system in tip-top shape!
Your electrical panel is the brain that directs the flow of electricity to every room in your home. Making sure it's in good shape will guarantee the reliability of your home's electrical system, especially at crucial times.
Problems with the breaker panel are not only inconvenient, but they can also put your home, building, family, and others at risk. If you notice a problem with your electrical panel, you should call Blake Brothers right away to reduce the chance of danger and the amount of time your family spends in the dark. Our team of certified and skilled electricians provides a full range of electrical services in the Huntsville area, including expert electrical panel repairs and replacements.
Our Process: Electrical Panel Repair
Book Instantly Online.
Click "Book Online" to schedule your service and receive instant confirmation.
A technician will visit your home.
We arrive at your property on time, inspect the issue, and let you know what to expect.
3
Blake Brothers will perform your electrical panel repair.
We fix the issue, allowing you to keep using your electrical panel for a longer period of time.
Customer satisfaction guaranteed
We stand behind our work. Call us anytime for post-service inquiries or concerns.
Top-Rated Electrical Panel Specialists in Huntsville, AL
As local electrical service providers, we have witnessed the increasing reliance of Huntsville residents on their electrical systems over the past decade. From recharging mobile phones to keeping homes comfortable and everything in between, electricity powers the modern lifestyle.
The electrical panel is at the core of your home's electrical system. If it breaks or malfunctions, it is imperative that you address the issue as soon as possible to avoid losing power during crucial times. However, the panel's complexities and subtle details make it nearly impossible for a non-professional to identify the problem. That is why we always recommend seeking the assistance of a qualified professional.
Here at Blake Brothers, we take safety very seriously. When the power unexpectedly goes out in your home or building, you can count on our licensed and highly trained electricians to show up and make things right before they cause serious damage. No matter how bad your electrical emergency is, you can rely on us for prompt, reliable, and risk-free service.
5 Signs You Should Replace Your Electrical Panel
Most homeowners don't pay attention to their electrical panels until something goes wrong. But as an integral part of your home's electrical infrastructure, you should always keep an eye on its condition so you can spot problems as soon as they happen. Left unchecked and without proper maintenance, the panel can suddenly fail or get damaged beyond repair.
Call Blake Brothers for an electrical panel replacement if you notice any of these signs:
Old Electrical Panel
If your electrical panels are older than 25 years, you may want to think about replacing them. Due to more frequent trips and electrical failures, old electrical panels are more likely to catch fire or start fires. But if you think your panel can last a few more years, schedule an electrical panel inspection to make sure it is safe and working correctly.
Burnt Smells
If there is a smoky or scorched odor coming from your panel, you should contact an electrician immediately. This indicates that your electrical panel is about to fail, which poses a serious fire risk to your home and possibly the homes of your neighbors.
Breakers Tripping Often
Circuit breakers are set to trip and cut power to faulty circuits to keep dangerous overloads from happening. More frequent breaker trips, however, could indicate that your electrical panel is outdated and cannot support your current electrical needs.
Strange Sounds
Electrical panels should make no audible noise, aside from the occasional click when a breaker trips. If you hear a buzzing or hissing sound coming from your electrical panel, don't dismiss it. This could indicate a faulty wire or electrical connection. Left ignored, the faulty wiring can cause damage to your electrical panels, and you will need to replace both.
Flickering Lights
Plugging in the vacuum or using the microwave should have no effect on your lighting. If your lights flicker when you turn on an appliance in your home, your electrical panel may no longer be able to handle the required power draw and must be replaced.
When you contact Blake Brothers for electrical panel service in Huntsville, you can count on our electricians to arrive on time, carefully assess the problem, find the root of the issue, and then figure out the best way to fix it.
Fortunately, a new electrical panel is not always necessary. In many cases, the issue can be fixed, allowing you to keep using your panel for a longer period of time. However, if our experts find that you have an outdated electrical panel, we will most likely recommend a replacement to ensure that system can handle your home's energy requirements.
Common Electrical Panel Issues
Electrical panels have a lifespan of 20 to 30 years, but they can start malfunctioning a few years down the line in the absence of regular and proper maintenance.
To avoid potential danger, homeowners should be aware of, and prepared to address, the following common electrical panel problems:
Overcrowding

– Keep everyone safe by avoiding both under- and over-loading your electrical panel. A typical breaker panel can handle approximately 100 amps, but electricians recommend 200-amp panels for contemporary homes. You should definitely upgrade to a larger panel if you need additional circuits.

Overfusing

– Overfusing occurs when a wire carrying a load is too small for the fuse or circuit breaker to which it is connected. Overfusing prevents the circuit breaker from tripping when overloaded. This issue poses an electrical fire hazard and must be taken extremely seriously.

Corrosion

– It's crucial to inspect the electrical panel frequently for signs of corrosion. Typically, corrosion is caused by the presence of moisture or humidity. If you notice corrosion or rust stains anywhere in your electrical system, have a trained professional assess the damage.

Missing or Damaged Handle Ties

– Handle ties connect the breaker switches on a 2-pole circuit breaker. These breaker switches should only be connected with handle ties. If the handle ties are missing or broken, replace them immediately.
Electrical panels provide protection for your home. To protect your home from fire and other electrical hazards, it is imperative to address problems as soon as they arise. 
When it comes to electrical safety and other related issues, the experts at Blake Brothers are always ready to lend a hand. You can trust our team of experts to get the job done right.
Low Monthly Payments Financing for HVAC, Electrical, and Plumbing Services
Convenient financing options available!
As part of our commitment to helping business owners and establishments, we offer flexible financing options for our commercial electrical services in the Huntsville area. Contact us today to learn more.
Why Choose
Blake Brothers?
Instant schedule confirmation
Book online now to receive your appointment confirmation.
Affordable service, transparent pricing
Honest, upfront pricing for all our services. No surprises, hidden fees, or extra charges
Available 24/7 for emergencies.
HVAC or plumbing emergency? Call us!
We're at your service any time of the day or night.
Excellent Financing
Monthly payment plans to fit any budget – finance any major repair or replacement.
Blake Brothers has Technicians Ready to Assist with Electrical Panel Replacement in
Plumbing License # CO51200005
We provide HVAC, electrical, and plumbing services throughout Alabama. Click the link below to find out if our services are available in your area.
"Jared did an excellent job diagnosing our HVAC issue. He was able to perform the service in a timely manner and was able to answer every question I had regarding our system!" ---Justin Colar