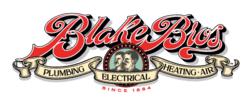 The trusted choice for water quality and treatment services in Huntsville, AL.
In addition to removing impurities from your tap water, your water filtration system also improves its quality and flavor. That is why if you ever notice a problem with your filtration system, it's recommended to schedule a professional inspection immediately.
Blake Brothers is the company to call if you need water filtration system repair in the Huntsville area. We can identify the issue and provide a long-lasting solution – FAST!
Our Process:

Water Filtration System Repair
Book Instantly Online.
Click "Book Online" to schedule your service and receive instant confirmation.
A technician will visit your home.
We arrive at your property on time, inspect the issue, and let you know what to expect.
3
Blake Brothers will perform your water filtration system repair.
We repair your system or recommend a replacement based on the results of our inspection.
Customer satisfaction guaranteed.
We stand behind our work. Call us anytime for post-service inquiries or concerns.
Your Water Filtration System Experts in Huntsville, AL
Professional installation and repair will help ensure that your water filtration system delivers quality water every time you turn on your faucet. For water treatment and filtration services in Huntsville and surrounding areas, trust only Blake Brothers Plumbing, Electrical, Heating, & Air!
No matter what type of water filtration or purification system you have, we can repair or replace it for you. We specialize in the following:
Water Filtration Systems – This is one of the most basic and effective systems for improving water quality. Whole–house water filtration systems purify all the water entering a home, providing comprehensive protection.
Water Softeners – Water softeners are designed to remove the hardness from water. It uses salts stored in a separate tank to remove damaging minerals that make water unsafe for drinking.
Reverse Osmosis Systems – These systems are very good at purifying the water from your plumbing system. The water passes through a membrane that traps impurities before being pumped back to your taps.
With the knowledge and experience we've gained over the years, we're familiar with most systems on the market. From under-sink systems to whole-house systems, we can fix, restore, or replace your water filtration system as needed.
Signs Your Water Filtration System Isn't Working Properly
A water filtration system is the most effective way for homeowners to ensure the cleanliness and safety of their drinking water. It also removes impurities from well or borehole water, allowing it to be used for outdoor cleaning and other applications.
Although the best systems can last for years, they are not completely fail-safe. The following are signs of a failing water filter:
Bad Taste
When your water tastes bad, you know something is wrong. It could be nothing to be concerned about, but it's also possible that your filter is clogged or broken.
Foul Smell
If you smell a foul odor coming from your water, it's likely that your filtration system is malfunctioning. When mineral deposits build up in or around the filters, they tend to produce an awful smell. Detecting sulfur or hydrogen sulfide odor could indicate a problem with the filtering components.
Tinted Color
If your water is turning a murky yellow or even brown, there may be a problem with your water filtration system. Changes in water color necessitate an immediate phone call to the plumber.
Presence of Dirt and Other Debris
Water that hasn't been thoroughly filtered may still contain trace amounts of scale, dirt, or debris. If this happens, it might be time to get a new filtration system.
Low Water Pressure
The water pressure will drop significantly if the filters of your water filtration system become clogged or blocked.
For water quality issues and concerns in Huntsville, contact Blake Brothers and set an appointment with us right away. We cater to emergencies 24/7!
Should You Repair or Replace Your Water Filtration System?
It's crucial to keep an eye on your water filtration system, as any issues could result in contaminated drinking water. If you see multiple warning signs that your filtration system is malfunctioning, you should contact a plumber immediately.
Minor filtration problems can be fixed, such as replacing a clogged or broken filter. However, if there is severe or extensive damage to the system, it may be necessary – even practical – to replace the whole thing.
Benefits of a Whole-House Water Filtration System Installation
A whole-house water filter is the most effective way to soften and purify water. This system filters water as it enters your home, so your water is always of the highest quality, whether you're using it for showering, washing clothes, drinking, or cooking.
Cleaner, better-tasting water. Removing toxins and minerals from your water will make it safer to drink and better-tasting.
Benefits to health and well-being. Water can easily become contaminated with disease-causing bacteria and pathogens, putting yourself and your family at risk. A water filter treats the water and removes disease-causing bacteria before reaching your faucet.
Budget and environment-friendly. If you have access to clean water at home, you will need to purchase less bottled water. This benefits both your wallet and the environment.
Longer-lasting plumbing. Hard water flowing continuously through your pipes can cause corrosion. Investing in better water quality can help extend the life of your plumbing system.
Access to clean water is essential to a healthy and happy lifestyle. And one of the easiest ways to do this is with a fully-functional water filtration system that distributes clean water throughout the entire home.
Whether you need a new filter installed or just want an assessment of your water quality, Blake Brothers has you covered. Contact us any time for more information about our water quality and filtration services or to get a free quote.
Low Monthly Payments Financing for HVAC, Electrical, and Plumbing Services
Convenient financing options available!
Keep your budget in check with our flexible financing options. Get in touch with us for more information on how to avail of this offer.
Why Choose Blake Brothers?
Instant schedule confirmation
Book online now to receive your appointment confirmation.
Affordable service, transparent pricing.
Honest, upfront pricing for all our services. No surprises, hidden fees, or extra charges.
Available 24/7 for emergencies
HVAC or plumbing emergency? Call us!
We're at your service any time of the day or night.
Excellent Financing Options.
Monthly payment plans to fit any budget – finance any major repair or replacement.
Blake Brothers has Technicians Ready to Assist with Water Filtration System Repair in
Plumbing License # CO51200005
We provide HVAC, electrical, and plumbing services throughout Alabama. Click the link below to find out if our services are available in your area.
"Jared did an excellent job diagnosing our HVAC issue. He was able to perform the service in a timely manner and was able to answer every question I had regarding our system!" ---Justin Colar