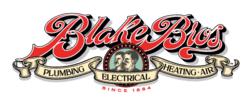 Your 24/7 drain cleaning experts!
Your drainage system is the backbone that keeps your home's plumbing functioning. And since the entire system is connected, one small drainage problem in one part of your home can easily disperse into another.
Clogged drains may not seem like a plumbing emergency, but they can delay your entire day. And if you ignore the problem long enough, it can cause a slew of other plumbing issues.
Don't wait for a clogged drain to become a bigger and more expensive problem! Schedule an appointment with Blake Brothers today! We'll blast your pipes clean and solve all your drain problems in no time.
Our Drain Cleaning Process
Book Instantly Online.
Click "Book Online" to schedule your service and receive instant confirmation.
A technician will visit your home.
We arrive at your property on time, inspect the issue, and let you know what to expect.
3
Blake Brothers will perform your drain cleaning service.
We'll clear your drain of build-up and clogs.
Customer satisfaction guaranteed.
We stand behind our work. Call us anytime for post-service inquiries or concerns.
Reliable Drain Cleaning Services in Huntsville, AL
Most people would turn to store-bought cleaners to unclog their drains, which is a terrible idea because these cleaners contain harsh chemicals that can damage your pipes over time.
When faced with a clog that simply won't budge, it's time to call the drain unclogging experts at Blake Brothers!
Blake Brothers Plumbing, Electrical, Heating & Air has provided quality plumbing and drain cleaning in Huntsville, AL and surrounding areas for decades.
As a locally-owned and operated company, we aim to offer top-tier services that will make your home more comfortable for you and your family. You can count on our certified and highly-skilled plumbing specialists to show up on time and with the tools and equipment needed to clean your drains and resolve whatever drain issue you may have in one visit.
With us, you know exactly what you're getting into. After inspecting your drains, we'll let our customers know what the job entails – from the work involved to the pricing, so there are no surprises!
Need emergency drain cleaning after hours or on the weekend? No problem! Our 24/7 emergency service will keep your drains flowing smoothly day or night.
Signs Your Drain Needs Cleaning
Like the majority of homeowners, you probably don't pay much attention to the inner workings and condition of your plumbing system. But, one day, if you ever find yourself dealing with a flooded bathroom or a clogged kitchen sink, you'll wish you had seen the warning signs.
The following are telltale signs of a drain that needs cleaning:
Slow draining. If your drain is flowing slower than usual, there is likely something obstructing it. The common culprits include hair, grease, soap, or other foreign object that got flushed down your drain and built up over time.
Overflowing toilets.  Toilets that overflow when you flush are most likely blocked. If a plunger does not solve the problem, the clog must be deeper inside the pipes.
Water backup. Water backing up the drains means something is causing a block somewhere in the system. Call an expert to assess the problem as soon as possible to avoid flooding.
Gurgling sounds. Weird sounds from your drain or toilet mean there's air trapped inside, usually due to partial clogging. Have your drain inspected and cleaned to prevent the problem from getting worse.
Foul smells. The rotting smell coming out of your drain is most likely due to food particles, sludge, or even dead rodents flushed and trapped in your pipes. Cleaning your drains will get rid of the smell and the bacteria that accumulated inside.
Hydro jetting is a popular method for eliminating waste buildup in your pipes.
A hydro jet is a long hose, similar to a pressure washer, that blasts pressurized water into the pipe, clearing any gunk or debris along the way.
Hydro jetting is a very effective way to clean a drain and prevent future clogging, but some pipelines – especially older ones – may not be able to handle the pressure from a hydro jet.
Our drain cleaning specialist will thoroughly inspect your drains and pipes and recommend the most suitable approach based on our findings.
How to Prevent Clogged Drains
Drains always seem to act up at the worst possible times – like when you're preparing for a party or have guests over for dinner. But while drain clogs are an unavoidable reality for homeowners, there are ways to prevent them from happening more often.
Keep food and other debris from your drains. Food is the leading cause of blocked drains. To avoid this, dispose of leftover food in the garbage, not your garbage disposal.
Use drain screens. Drain screens in your bathroom and drain stop in your kitchen sink will keep hair and other particles from entering your drain.
Avoid store-bought drain cleaners. Most of these products contain harsh chemicals that may damage your pipes.
Invest in periodic drain maintenance. Annual professional drain cleaning and maintenance will help your pipes last longer, saving you money in the long term.
Low Monthly Payments Financing for HVAC, Electrical, and Plumbing Services
Convenient financing options available!
Blake Brothers offer flexible financing options for plumbing and drain cleaning services in Huntsville and surrounding areas. Contact us to learn more about this offer!
Why Choose Blake Brothers?
Instant schedule confirmation
Book online now to receive your appointment confirmation.
Affordable service, transparent pricing.
Honest, upfront pricing for all our services. No surprises, hidden fees, or extra charges
Available 24/7 for emergencies
HVAC or plumbing emergency? Call us!
We're at your service any time of the day or night.
Excellent Financing
Monthly payment plans to fit any budget – finance any major repair or replacement.
Blake Brothers has Technicians Ready to Assist with Drain Cleaning in
Plumbing License # CO51200005
We provide HVAC, electrical, and plumbing services throughout Alabama. Click the link below to find out if our services are available in your area.
"Jared did an excellent job diagnosing our HVAC issue. He was able to perform the service in a timely manner and was able to answer every question I had regarding our system!" ---Justin Colar