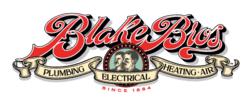 Your one-stop shop for sewer line services in Huntsville, AL.
Your sewer system is in charge of transporting massive amounts of waste and wastewater away from your home. Unlike most systems in your home, your drain pipes and sewer lines do not have an "off" switch. They work round-the-clock and, as a result, issues are likely to arise without proper maintenance.
Blake Brothers provide a full range of sewer line repair and maintenance services in Huntsville, AL and beyond! Whatever sewer line problem you're dealing with, we'll take care of it for you. We offer same-day service for emergency situations.
Our Process: Sewer Line Repair
Book Instantly Online.
Click "Book Online" to schedule your service and receive instant confirmation.
A technician will visit your home.
We arrive at your property on time, inspect the issue, and let you know what to expect.
3
Blake Brothers will perform your sewer line repair.
Our team will evaluate the issue at hand to determine if it can be fixed or needs to be replaced.
Customer satisfaction guaranteed.
We stand behind our work. Call us anytime for post-service inquiries or concerns.
Reliable Sewer Line Repair in Huntsville, AL
Sewer line repairs is a complex process that requires the expertise and experience of a professional plumber. At Blake Brothers, we know all too well the stress that plumbing issues may cause, and our specialists are here to put your worries to rest and restore comfort to your homes. 
With over decades of sewer line repair and installation experience, you can rely on us to come up with efficient and long-lasting solutions to your sewer line problems at a very competitive price. Our team will evaluate the issue at hand to determine if it can be fixed or needs to be replaced. Rest assured, we only recommend replacement when absolutely necessary. Whether it's sewer line installation, repair, or maintenance, we make sure that you are 100% satisfied with our job. 
Signs You Need Sewer Line Repair
There are numerous factors that might cause sewer line damage, such as tree roots, pipe corrosion, extremely cold temperatures, poor maintenance, and general wear and tear.  
Because sewer lines are hidden underground, it can be difficult to detect if they are damaged and require repair. There are, however, a few noticeable signs of sewer line damage that should tell you it's time to call in the experts.
Pungent Smell in the Yard or Basement.

The smell is usually caused by backed-up sewage that was unable to get to the main sewer line due to clogging. 
Flooding on the Area Around the Sewer Line.

If your sewer main is damaged or degraded, sewage can leak out of the pipes and seep into your property.
Slow Drains.

If you've never had issues with your drains before, but the drains in your home suddenly take a while to clear, it could be due to a clog somewhere in your sewer line.
Sewage Backups.

A clogged sewer line causes everything to pile up until there is nowhere else for it to go but back up via your drains.
Homeowners tend to put off their sewer line repairs until it is too late. After all, how much harm can a minor clog in the sewer system cause, right? 
The truth is that a small clog can bring a slew of issues. The blockage will only worsen over time, to the point that even water cannot pass through. The line could end up exploding; releasing water and sewage everywhere. The repair and cleanup will not be simple or inexpensive.
Repair your sewer line as soon as you notice a problem to avoid costly repairs. Early detection and prompt response will not only save you money but from a lot of stress and inconvenience as well.
How Sewer Lines are Repaired
If your sewer line leaks or sustains some form of damage, you have two choices to fix it – dig a trench around the pipe or utilize trenchless sewer line repairs. 
Of the two, the trenchless method will save you time and money by needing little to no digging. We use a video camera to inspect the condition of your pipes and recommend repairs based on the findings.
Pipe lining

— Suitable for pipes with minor damage. An inflatable tube coated in epoxy is injected into the sewer system and then inflated against the existing line. When the epoxy cures and hardens, the tube is deflated and removed, leaving behind a newer and better pipe within the existing system.
Pipe bursting

— Recommended for sewer lines with more extensive damage. This trenchless sewer line repair method involves breaking and expanding the existing sewer pipe with an expander head and simultaneously replacing it with a new one.
Sewer line repair is your first line of defense in case your sewer line malfunctions. However, if you ignore the issue long enough, the damage can develop into something more serious and you may have to replace your sewer line.
Blake Brothers is your go-to sewer line repair company in Huntsville, AL and nearby areas. Our highly trained and certified technicians can get to the bottom of the problem and help you find the best and most cost-effective solutions available. 
Low Monthly Payments Financing for HVAC, Electrical, and Plumbing Services
Convenient financing options available!
Sewer line installation and repairs can cost a lot of money, depending on the extent of damage and scale of the job. Luckily, you don't have to pay for all of it at once! Blake Brothers offers flexible financing options for our sewer line repair services in Huntsville, AL and surrounding areas. Contact us today to learn more about our amazing offers!
Why Choose
Blake Brothers?
Instant schedule confirmation
Book online now to receive your appointment confirmation.
Affordable service, transparent pricing.
Honest, upfront pricing for all our services. No surprises, hidden fees, or extra charges
Available 24/7 for emergencies
HVAC or plumbing emergency? Call us!
We're at your service any time of the day or night.
Excellent Financing
Monthly payment plans to fit any budget – finance any major repair.
We provide HVAC, electrical, and plumbing services throughout Alabama. Click the link below to find out if our services are available in your area.
Blake Brothers has Technicians Ready to Assist with Sewer Line Repair in
Plumbing License # CO51200005
Financing Options Available
At Blake Brothers Brothers, we understand how important a functioning HVAC system is for your home. This is why we offer flexible financing options to help you take care of your new HVAC purchase, so you can get back to taking care of what matters most to you.
A well-maintained HVAC system can save you from having to invest in costly repairs down the road. Learn more about the priority maintenance services offered by Blake Brothers Plumbing, Electrical, Heating & Air.