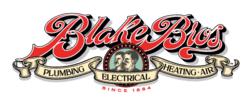 Ductless Heating and Cooling Systems
First-class ductless system services for year-round comfort.
Ductless mini-splits are increasingly becoming a popular heating and cooling solution among Huntsville residents, especially those who live in homes that lack the ductwork required to support a central air conditioner or furnace.
Mini-split HVAC systems appeal to home and business owners because of their unrivaled versatility and the potential for significant energy savings. They're a great way to elevate the comfort of your home while keeping your energy costs at bay.
Should you decide that a ductless mini split system for your home or office, turn to the HVAC experts at Blake Brothers! We offer a full range of mini-split HVAC system services in Huntsville and beyond!
Our Process:

Ductless Mini Split System Repair
Book Instantly Online.
Click "Book Online" to schedule your service and receive instant confirmation.
A technician will visit your home.
We arrive at your property on time, inspect the issue, and let you know what to expect.
3
Blake Brothers will perform your mini split system repair.
We diagnose the problem and fix it at the source.
Customer satisfaction guaranteed.
We stand behind our work. Call us anytime for post-service inquiries or concerns.
Mini Split HVAC System Experts in Huntsville, AL
Even the most expensive or highly-recommended mini split system may not function as efficiently as expected unless installed and serviced by a professional. Ductless systems may not require ductwork, but the installation process can be tricky. You'll need the help of experts to ensure that the job is done right and up to code.
When you work with Blake Brothers, you can count on your mini split system to operate smoothly, even during the hottest and coldest months of the year. Our technicians are equipped with the knowledge, skills, tools, and updated training necessary to carry out ductless heating and cooling services correctly from start to finish.
Whether you hire us for ductless mini split HVAC system repair, replacement, or routine service, you can count on us to meet your expectations every time!
6 Benefits of a Ductless Mini Split System
Switching to a ductless mini split system may be one of the best home improvement decisions you'll ever make. Here are five compelling reasons why:
Greater flexibility. Ductless mini splits can be installed in a variety of configurations and locations. They also feature point-of-use heating and cooling, which allows you to control the temperature in different areas of your home.
Zoning control. With a mini split system, you can choose to heat or cool specific rooms or areas instead of the entire home. Your HVAC system will need lesser time and energy to achieve ideal room temperature, which means lower energy consumption!
Significant financial savings. Ductless systems increase zone system efficiency, resulting in lower utility costs. They may also qualify you for rebates or tax credits in your state.
Faster installation. Most ductless mini split system installations can be completed in a day. Ducted system installations, on the other hand, can take much longer.
Improved indoor air quality. Ductless mini split air conditioning and heating systems utilize multi-stage filtration, which can significantly reduce airborne pollutants and particulates in your home.
Environmentally friendly. Ductless mini splits are smaller in size and packed with energy-efficient features. Using a ductless system to heat and cool your home lowers your carbon footprint.
If you believe a ductless mini-split system is perfect for your home or office, give Blake Brothers a call today. Our friendly staff would gladly answer your questions and walk you through the ductless installation process.
Signs Your Mini-Split System Needs Repairs
Like other HVAC systems, ductless mini splits are also susceptible to wear and tear. At some point, your HVAC system will require professional repairs to restore its normal functions and efficiency.
Paying close attention to the condition of your HVAC system will save you from spending a lot of money on repairs. Here are four common signs of mini split system damage to watch out for:
Surging utility bills. Your HVAC system accounts for approximately 40% of your home's energy usage. That said, if you see a significant increase in your monthly energy bills, your HVAC system could be to blame. Damaged units become less and less efficient over time, increasing your energy consumption.
Decreased energy efficiency. Have you noticed a significant drop in your system's heating or cooling efficiency?  It's probably due to a faulty internal component in the indoor or outdoor unit. You'll need the help of an HVAC professional to determine the source of the problem and recommend repair options.
Strange noises. Mini-split systems are relatively quiet. If you're hearing loud, strange sounds coming from the unit, there is likely something wrong with it.
Ice buildup. Any defects with your ductless system's air conditioning will damage the heating as well. Ice buildup on a ductless system usually indicates a problem with the evaporator coil. Without routine maintenance, the coils can get dirty and prevent the system from working properly.
24/7 Emergency Ductless System Service
Whatever the problem, the Blake Brothers' professional ductless heating repair technicians are always ready to help. We have the expertise and equipment necessary to diagnose the problem accurately and fix it at the source. We also offer routine ductless heating and cooling systems maintenance, which is by far the best way to extend the life of your system and protect the quality of its operation.
Blake Brothers has been providing premiere HVAC services in Huntsville for over 137 years. As a locally-owned and operated company, we value our reputation as the area's trusted and most recommended HVAC company in the area. Our customers know they can always count on us for quality workmanship and honest pricing.
Our emergency ductless HVAC services are available 24/7! If you run into a problem with your AC or heating system that needs urgent attention, don't hesitate to give us a call!
Low Monthly Payments Financing for HVAC, Electrical, and Plumbing Services
Convenient financing options available!
Need immediate mini split HVAC system repair but don't have the budget? Learn more about our flexible financing options for ductless mini split systems in Huntsville, AL. Contact us now!
Why Choose Blake Brothers?
Instant schedule confirmation
Book online now to receive your appointment confirmation.
Affordable service, transparent pricing.
Honest, upfront pricing for all our services. No surprises, hidden fees, or extra charges
Available 24/7 for emergencies
HVAC or plumbing emergency? Call us!
We're at your service any time of the day or night.
Excellent Financing
Monthly payment plans to fit any budget – finance any major repair or replacement.
Blake Brothers has Technicians Ready to Assist with Ductless & Mini-Split Systems in
Plumbing License # CO51200005
We provide HVAC, electrical, and plumbing services throughout Alabama. Click the link below to find out if our services are available in your area.
"Jared did an excellent job diagnosing our HVAC issue. He was able to perform the service in a timely manner and was able to answer every question I had regarding our system!" ---Justin Colar