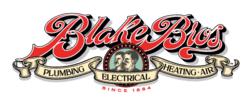 Your #1 choice for safe and effective gas line installation in Huntsville, AL.
The gas lines that fuel your furnace, water heater, and appliances are critical to the operation of your home. However, even the smallest gap or crack in the system can lead to a leak and other potentially dangerous situations. To avoid this, you should only entrust your gas line to a reputable and licensedlocal service provider.
Blake Brothers Plumbing, Electrical, Heating, & Air provides superior gas line services in Huntsville, AL, and the surrounding areas. Our technicians always show up prepared and equipped with everything they need for safe and proper installation.
Our Process: Sewer Line Replacement
Book Instantly Online.
Click "Book Online" to schedule your service and receive instant confirmation.
A technician will visit your home.
We arrive at your property on time, inspect the issue, and let you know what to expect.
3
Blake Brothers will perform your gas line installation service.
We install your line quickly and efficiently, and with minimal disruption to your daily routine.
Customer satisfaction guaranteed!
We stand behind our work. Call us anytime for post-service inquiries or concerns.
Looking for the Best "Gas Line Installers Near Me" in Huntsville, AL?
Gas lines are complex systems that can be dangerous if not installed correctly. That is why hiring licensed, and trained professionals for your gas installation needs is critical.
Whether you need to install a new pipes or reroute an existing line due to a home remodeling project, Blake Brothers' experienced technicians can properly install all the components of your system for a safe and effective gas line.
Gas line installation is tough, but we know exactly how to do it right. Our licensed experts are trained to provide the best gas installations in Huntsville and are up to date on the area's building regulations and permit requirements.
When you work with us, you'll never have to worry about safety or staying in compliance with local plumbing codes. Rest assured, Blake Brothers' services meet the highest professional and industry standards. Since 1934, we have provided Huntsville and its neighboring communities with high-quality installations and repairs guaranteed to last. No matter what your gas needs are, we have a solution!
Why Hire a Pro for Gas Line Installation?
Whether you need to install a new gas line for a residential or commercial property, you must hire a reputable contractor to handle the entire process.
Here are the key reasons why:
License. It's important to note that working on a gas pipe or a gas-powered appliance without the proper licensing is actually illegal in most states.
Expertise. Gas line installation and repair require a high level of expertise as they may pose significant health and safety risks if done incorrectly. Hire only licensed and experienced plumbers for gas piping services to ensure your safety.
Attention to detail. It only takes one faulty pipe or valve to cause a gas leak. If that leak is ignited, it can cause asphyxiation, carbon monoxide poisoning, or even an explosion.
Safety. Professional gas line services prioritize and ensure safety by implementing various quality control measures and complying with industry-recommended installation procedures.
Quality materials. Reputable contractors only use high-quality materials, often from trusted brands, designed to withstand extreme pressure, changing temperatures, and heavy loads.
Budget-friendly. Professional installers work with clients to develop the most appropriate gas line system for their needs and budget.
The Benefits of Using Natural Gas
The natural gas industry has grown exponentially in recent decades. This is not surprising given that using natural gas has numerous advantages for both residential and commercial properties.
Natural gas works in the background to keep your home comfortable, your water warm, and your meals cooked to perfection. However, there's more to this energy than most people realize.
1. Eco-friendly
It is more important than ever to consider what small changes we can make in our lives to leave a smaller environmental footprint. Natural gas is the cleanest of all fossil fuels, emitting at least 15% less CO2 than coal, oil, and wood.
2. Clean
More efficient energy sources are cleaner. When you use natural gas, 91% of the gas from the original source makes it to your home. If you use electricity, however, only 36% of the energy from the source reaches your property.
3. Affordable.
Because natural gas appliances use energy so efficiently, they are typically less expensive to operate, saving the customer a significant amount of money. Compared to homes that use electricity for the same activities, households that use natural gas save at least $1,000 per year on average.
4. Highly efficient and reliable.
Natural gas is one of the safest and most dependable energy sources available. Because the distribution system is underground, inclement weather does not affect the delivery. Natural gas also produces heat quickly and efficiently, so your home stays warm and cozy even if the temperature outside drops.
Given how important natural gas is to the households and establishments that use and depend on it, you don't want just anyone handling the installation. Luckily, when you work with Blake Brothers, you can be certain that the job is performed by a vetted, certified, and licensed professional.
In the unlikely event that you are dissatisfied with our work, we'll make every effort to meet your expectations.
Low Monthly Payment Financing for HVAC, Electrical, and Plumbing Services
Convenient financing options available!
Why wait when you need an important repair or a new line installed? We have flexible financing options to fit your needs. Interested? Contact us to learn more!
Why Choose
Blake Brothers?
Instant schedule confirmation
Book online now to receive your appointment confirmation.
Affordable service, transparent pricing
Honest, upfront pricing for all our services. No surprises, hidden fees, or extra charges
Available 24/7 for emergencies
HVAC or plumbing emergency? Call us!
We're at your service any time of the day or night.
Excellent Financing
Monthly payment plans to fit any budget – finance any major repair or replacement.
We provide HVAC, electrical, and plumbing services throughout Alabama. Click the link below to find out if our services are available in your area.
Blake Brothers has Technicians Ready to Assist with Gas Line Installation in
Plumbing License # CO51200005
We provide HVAC, electrical, and plumbing services throughout Alabama. Click the link below to find out if our services are available in your area.
"Jared did an excellent job diagnosing our HVAC issue. He was able to perform the service in a timely manner and was able to answer every question I had regarding our system!" ---Justin Colar