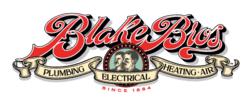 Advocating for Better Air Quality in Huntsville and Beyond
You spend the majority of your day indoors, so it's critical to create an environment with good air quality. Indoor air quality (IAQ) affects overall health as well as the comfort of homes and workplaces. And testing for contaminants enables you to develop better strategies for enhancing the quality of indoor air.
If you want to know for sure that the air you and your family are breathing is safe and healthy, contact Blake Brothers for air quality testing today!
Our Process: Indoor Air Quality Testing
Book Instantly Online.
Click "Book Online" to schedule your service and receive instant confirmation.
A technician will visit your home.
We arrive at your property on time, inspect the issue, and let you know what to expect.
3
Blake Brothers will perform your indoor air quality testing.
We use our expertise to help you understand the quality of the indoor air you're breathing.
Customer satisfaction guaranteed!
We stand behind our work. Call us anytime for post-service inquiries or concerns.
Huntsville's Most Reliable Air Quality Testing Company
The truth is, there are all sorts of places in your house where mold, bacteria, and other allergens can hide, compromising the cleanliness of indoor air. Having poor IAQ at home is linked to increased instances of headaches, itchy eyes, and a sore throat. It can also trigger asthma attacks, wheezing, or other respiratory symptoms, and may even cause cancer and other critical diseases.
If you are concerned about the quality of the air in your home, Blake Brothers' indoor air quality testing can help you fully understand the quality of the air you are breathing and then ensure that it is free from impurities.
We've been around for a while, and in that time we've established a solid track record of success and professionalism. You can rely on us to employ our knowledge and expertise to give you the best indoor air quality solutions possible.
Factors that Affect Indoor Air Quality
Your home should be your safe haven, but if you have air quality issues, you may have trouble relaxing and truly enjoying your private oasis. Several things can hurt the quality of indoor air, but the following have the biggest effect:
Ventilation rates – Poor ventilation leads to higher concentrations of indoor pollutants.
Filtration – Lower efficiency filters do not remove fine particulate matter from outside and recirculated air while poorly fit filters allow pollutants to bypass them. Without regular maintenance, filters will clog and impede airflow resulting in poor ventilation.
Outdoor air – Outdoor air pollutants from industry, traffic, wildfires, and other sources, if not removed by high-efficiency filters, can result in poor indoor air quality.
Sources of indoor pollution – Interior finishes, fixtures and furniture , cleaning chemicals, and equipment can introduce pollutants to indoor air.
Indoor moisture – Exterior leaks and interior condensation due to poorly designed or failed building enclosures, and interior leaks and condensation from plumbing and mechanical equipment can result in mold and mildew.
The technicians at Blake Brothers test the quality of indoor air using a combination of visual and olfactory inspections, monitoring techniques, and project-specific sampling using cutting-edge technology. With the help of our IAQ test, you will be able to find out whether your indoor spaces contain any hazardous gases, allergens, or other dangerous or unsafe contaminants.
But since indoor air quality solutions are not a one-size-fits-all, we make sure to always listen to the concerns of our clients and then prepare customized remediation tactics based on our findings in your home. Our goal is to leave your home in a better condition than when we found it, with cleaner air inside and out.
Signs You Need Your Home's Air Quality Tested
Poor air quality affects the health of your family members. If you are struggling with an air quality issue, we can help you improve your home's air quality. Here are a few signs that can reveal the poor air quality in your home:
Health Problems – If the people in your home are getting sick frequently with respiratory issues or allergies, air pollution could be the cause.
Molds Growth – Molds are a type of bacteria which grows because of moisture in the air that gives a musty smell and damages the things in your home. They thrive in indoor spaces with poor indoor air quality
Unpleasant Smells – Poor indoor air quality can lead to foul odors in the home, usually due to the misty smell produced by molds or poor air circulation. If you've been away for days and noticed an apparent odor when you returned, it's likely poor ventilation that's causing the unpleasant smell.
Too Much Dust – Pollen and dust penetrating into your home pollutes indoor air. Inhaling these airborne particles can have serious consequences for your health. They can weaken the respiratory system and cause allergies in many people.
DIY in-home air quality test kits can be inexpensive and simple to use, but their level of accuracy varies. At-home mold tests, in particular, are notoriously inaccurate. When you work with reputable air testing companies like Blake Brothers, you get the benefits of accuracy and greater detail in the test results.
If you know you have respiratory problems and other health issues that are heavily reactive to indoor air pollution, professional air quality testing is worth the extra expense.
Benefits of Indoor Air Quality Testing
Testing the air quality in your home or workplace plays a significant role in:
Early detection of dangerous pollutants – Often, airborne contaminants cannot be detected by the human eye or nose. Testing is frequently the only way to confirm their existence.
Reducing Energy Costs – Thorough duct cleaning can improve indoor air quality and reduce a building's heating and cooling costs.
Improving Overall Health – Cleaner air reduces the occurrence of health issues from a runny nose and headache to severe respiratory illness, heart disease, and cancer.
Fostering a better home/work environment – In situations where contaminants are the source of offensive odors, testing can result in purification remedies that play a significant role in enhancing comfort and happiness
 Providing peace of mind – There are many problems that poor air quality can create, some of which can be worrisome. Air quality testing is the first step in alleviating these concerns, so you can be more confident in the quality of the air you breathe.
Partnering with Blake Brothers for air quality testing services in Huntsville gives you the added advantage of working with a provider that has been around since 1884. We are a team of problem solvers dedicated to providing our customers with expert advice and realistic, affordable solutions.
Low Monthly Payments Financing for HVAC, Electrical, and Plumbing Services
Convenient financing options available!
Contact us to find out more about our flexible monthly payment plans for major repairs and installations in Huntsville and the surrounding area.
Why Choose
Blake Brothers?
Instant schedule confirmation.
Book online now to receive your appointment confirmation.
Affordable service, transparent pricing.
Honest, upfront pricing for all our services. No surprises, hidden fees, or extra charges.
Available 24/7 for emergencies.
HVAC or plumbing emergency? Call us!
We're at your service any time of the day or night.
Excellent Financing
Monthly payment plans to fit any budget can finance any major repair or replacement.
Blake Brothers has Technicians Ready to Assist with Air Quality Testing in
Plumbing License # CO51200005
We provide HVAC, electrical, and plumbing services throughout Alabama. Click the link below to find out if our services are available in your area.
"Jared did an excellent job diagnosing our HVAC issue. He was able to perform the service in a timely manner and was able to answer every question I had regarding our system!" ---Justin Colar