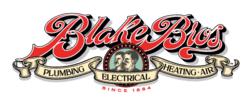 Tried and trusted whole home generator services in Huntsville, AL.
Do you lose sleep thinking about what might happen to your home and your family if lightning takes out one of your power lines? Or what if a big storm with strong winds comes through and the power is out for days?
Rest easy knowing that you won't be inconvenienced in the slightest if the power goes out because you have a whole home generator. Contact Blake Brothers today for quality home generator installation, repair, and maintenance in Huntsville, AL.
We cater to your comfort and electrical needs 24/7!
Our Process:

Water Heater Repair/Replacement
Book Instantly Online
Click "Book Online" to schedule your service and receive instant confirmation.
A technician will visit your home.
We arrive at your property on time, inspect the issue, and let you know what to expect.
3
Blake Brothers will install your whole home generator.
We install your home generator according to manufacturer requirements.
Customer satisfaction guaranteed
We stand behind our work. Call us anytime for post-service inquiries or concerns.
We are located in Huntsville, AL, but we can install a generator for you in surrounding areas, too. Give us a call today and we'll send out an expert to help you figure out which of our whole home generators might be right for you. We'll assess your needs, then let you know what it will take to get you this kind of peace of mind all the time.
Why You Should Invest in a Whole Home Generator
Generator sales and installations continue to increase as more and more homeowners and businesses are taking steps to increase their level of self-reliance and ability to sustain themselves during emergencies.
A whole house generator can supply as much power as your family needs when the lights go out. Having one in your home comes with various benefits, including:
Comfort and Convenience –

 Within seconds of a blackout, a whole-house generator powers on and supplies your home with a steady supply of electricity that can last for days.

Efficiency and Reliability –

A whole-house generator can power a home for hours without a hitch. You can also program it to your electrical setup, so it only powers the essential appliances/electronics in your home. 

Safety and Security –

The danger of tripping or falling increases during a power outage. With a whole-house generator, you won't have to worry about stumbling over anything as you make your way from room to room in the dark because of the lack of electricity.

Long-term Savings –

The upfront cost of purchasing and installing a whole-house generator may seem high, but it will pay for itself in the long run by preventing costly appliance repairs and pipe replacements. It will also keep your fridge running, so you don't have to worry about food spoilage.

Increase in Home Value –

A whole home generator provides immediate access to reliable emergency power. You'll have peace of mind knowing that your plumbing, HVAC, and household appliances continue to serve your family's needs in the event of a community blackout. 
Blake Brothers' team of certified and expert electricians is here to make sure your Huntsville area home is ready for the next blackout. Contact us and speak to our generator specialist today!
How Whole Home Generators Work
Anybody with a portable generator knows how much work it takes to set up the device. You'll probably have to fish it out of the garage and manually connect the appliances you want to power.
A whole-house generator uses natural gas, a battery, or solar to supply your property with electricity after a power outage. It is wired into your home's electrical network and automatically turns on as soon as it detects a loss of power. You don't even have to lift a finger!
Remote Monitoring for Whole Home Generators
Many of the generators that we install in the Huntsville, AL area provide remote monitoring capabilities, too.
With an app on your phone or computer, you'll be able to keep track of your generator wherever you are; anytime you want to. The app can also run regular tests, notify you when maintenance is needed, and track the service that's been performed.
Low Monthly Payments Financing for HVAC, Electrical, and Plumbing Services
Convenient financing options available!
If financing is your go-to, checkout Blake Brothers' flexible financing options for plumbing, electrical, HVAC services in Huntsville, AL.
Why Choose Blake Brothers?
Instant schedule confirmation.
Book online now to receive your appointment confirmation.
Affordable service, transparent pricing.
Honest, upfront pricing for all our services. No surprises, hidden fees, or extra charges
Available 24/7 for emergencies.
HVAC or plumbing emergency? Call us!
We're at your service any time of the day or night.
Excellent Financing!
Monthly payment plans to fit any budget – finance any major repair or replacement.
Blake Brothers has Technicians Ready to Assist with Whole Home Generators in
Plumbing License # CO51200005
We provide HVAC, electrical, and plumbing services throughout Alabama. Click the link below to find out if our services are available in your area.
"Jared did an excellent job diagnosing our HVAC issue. He was able to perform the service in a timely manner and was able to answer every question I had regarding our system!" ---Justin Colar