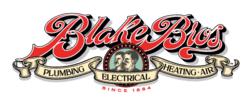 Huntsville's Leading Ceiling Fan Installation and Repair Service
Ceiling fans are an easy way to keep your home cool without drastically increasing your electric bill. Unlike air conditioners, ceiling fans use very little energy, so they do not cost much to operate. They help you stay cool by constantly circulating the air and maintaining a stable temperature in your home. And, because they help maintain a stable temperature, they can also help you stay warmer during the winter months.
Are you considering adding a new ceiling fan to your room or in need of ceiling fan repair services in Huntsville, AL? Call on the professional electricians at Blake Brothers for assistance! We'll make sure that your new ceiling fan not only looks good but is also installed and functioning safely.
Our Process: Ceiling Fan Installation/Replacement
Book Instantly Online.
Click "Book Online" to schedule your service and receive instant confirmation.
A technician will visit your home.
We arrive at your property on time, inspect the issue, and let you know what to expect.
3
Blake Brothers will perform your ceiling fan installation.
We install your new ceiling fan and make sure everything is up to code.
Customer satisfaction guaranteed!
We stand behind our work. Call us anytime for post-service inquiries or concerns.
Professional Ceiling Fan Repair and Installation in Huntsville, AL
If you're looking for a long-term, eco-friendly alternative to indoor heating, cooling, and ventilation, ceiling fans might be the answer. However, a reliable ceiling fan installation calls for a good understanding of wiring and electricity.
Like any electrical project, ceiling fan installation is a job that should be left to the professionals. While it is a fairly straightforward job, working with electricity without the proper tools and training is extremely dangerous and could pose a fire risk. It can also be pretty frustrating if you aren't sure what you're doing, so it's best to just leave the job to the pros.
Blake Brothers provides safe and reliable ceiling fan installation in homes and establishments throughout the Huntsville area. From helping you choose a fan that is perfectly suited to your needs and style to professionally installing it at a time that fits your schedule, we do it all.
We proudly offer a wide range of ceiling fan services, including:
New ceiling fan installation
Ceiling fan replacement
Ceiling fan repair
Switches and remotes for ceiling fans
Reversible ceiling fans
Lighted ceiling fans
Outdoor ceiling fans
Is it time to replace my old ceiling fan?
A ceiling fan provides a comfortable "In-between" temperature range without taxing your HVAC system or driving up your energy bills. But remember, you'll only be able to reap these benefits if your ceiling fan is in good working order.
From technical problems to aesthetics, these are indications that it's time to replace your ceiling fan,
1. Does a poor job of cooling your home
If your ceiling fan isn't cooling your home as intended, it's time to shop for a replacement. It's not uncommon for an old ceiling fan to slow down, turn off without warning, or simply not produce as much cool air as it once did. A ceiling fan's cooling capacity may also be affected by an internal issue.
2. Mechanical problems/failure
Even if your ceiling fan is keeping your house cool, it could have other problems. Most of the time, these issues are annoying or inconvenient, but some of them can pose safety risks. Issues like wobbling or imbalance, cracks and broken pieces, or anything that has to do with wiring and electricity demands replacement.
3. Multiple unsuccessful repairs
In some cases, replacing a broken ceiling fan right away isn't the best course of action. Your fan may only need maintenance or some minor repairs to fix the problem. However, if you've tried fixing your ceiling fan several times without success, it's probably time for a new one.
4. Upgrade to a more energy-efficient unit
Even if your ceiling fan's working well, it could be sucking up more energy than you'd like. Outdated units may not have the energy-efficient features of newer models and can result in higher energy bills. In this case, a replacement is necessary for long-term savings.
5. Update your home's aesthetics
You might want to replace your ceiling fan just because you don't like the way it looks. That's fine! It could be that your ceiling fan has an outdated design, you're redecorating, or you simply want to change up the look of the space. These are all valid reasons for a new ceiling fan installation.
Ceiling fan repair and installation is a job best left to the experts, so if you need help with it, give Blake Brothers a call. When it comes to fixing and installing ceiling fans, no one does it better than our team of experts. As a local company that has been serving Huntsville for more than 100 years, nothing is more important to us than offering you top-notch services you can rely on whenever you need them.
Factors to Consider When Choosing a Ceiling Fan
There are several factors that go into determining the ideal ceiling fan for your home. But, given the wide variety of makes and models on the market, it shouldn't be too difficult to find ceiling fans that are within your price range without compromising on design.
The next time you buy a ceiling fan, make sure to take the following factors into consideration:
Here are eight factors to consider when searching for ceiling fans that meet your unique specifications:
Budget and price range
Ceiling fan size
Cubic feet of airflow per minute (CFM)
Motor
Noise level
Number and angle of blades
Energy efficiency
Whether you are looking for a basic ceiling fan or something a bit fancier that will change the entire look of a room, Blake Brothers has got you covered! We can also help you choose the right unit for your intended purpose and lifestyle. Contact us for a free consultation today!
Can I install a ceiling fan myself?
There are plenty of do-it-yourselfers out there who might think they can tackle ceiling fan installation on their own. However, you can't expect to do a proper and risk-free installation just by reading a manual or watching a video.
Taking on DIY projects at home can boost your sense of ownership. But some tasks are too dangerous to carry out without the right training and knowledge, particularly when they involve electrical wires and connections. All electrical tasks should be carried out by a professional due to the inherent risk involved during the repair or installation process and even after it's done.
The electricians at Blake Brothers have had extensive training and experience in mitigating electrical safety hazards, so you can be sure that all work is carried out to the highest safety standards.
Low Monthly Payments Financing for HVAC, Electrical, and Plumbing Services
Convenient financing options available!
Do you need new ceiling fans but don't have the budget to pay for it? No need to worry, because Blake Brothers now offers flexible and easy financing options for ceiling fan installation and repair in the Huntsville area.
Why Choose
Blake Brothers?
Instant schedule confirmation.
Book online now to receive your appointment confirmation.
Affordable service, transparent pricing.
Honest, upfront pricing for all our services. No surprises, hidden fees, or extra charges.
Available 24/7 for emergencies.
HVAC or plumbing emergency? Call us!
We're at your service any time of the day or night.
Excellent Financing
Monthly payment plans to fit any budget can finance any major repair or replacement.
Blake Brothers has Technicians Ready to Assist with Ceiling Fan Installation & Repair in
Plumbing License # CO51200005
We provide HVAC, electrical, and plumbing services throughout Alabama. Click the link below to find out if our services are available in your area.
"Jared did an excellent job diagnosing our HVAC issue. He was able to perform the service in a timely manner and was able to answer every question I had regarding our system!" ---Justin Colar