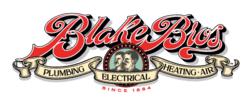 Huntsville's Leading HVAC UV Lights Specialists
Bacteria and viruses are just some of the contaminants floating around your home. And while a good filter and air cleaner can get rid of a lot of the dust and dirt in the air, only a UV germicidal light system can eliminate the tiny living pathogens that can make their way into your rooms and living spaces.
Anytime you need a UV germicidal light installed or repaired in Huntsville and the surrounding areas, call the experts at Blake Brothers for heater and AC UV lights services you can trust!
Our Process: HVAC UV Light Installation
1
Book Instantly Online.
Click "Book Online" to schedule your service and receive instant confirmation.
2
A technician will visit your home.
We arrive at your property on time, inspect the issue, and let you know what to expect.
3
Blake Brothers will perform your UV lights installation.
We help you pick and install a UV light system that fits your needs and budget.
4
Customer satisfaction guaranteed!
We stand behind our work. Call us anytime for post-service inquiries or concerns.
AC UV Lights Specialists in Huntsville, AL
Airborne viruses, mold spores, and bacteria thrive in dark, moist environments—and the last place you want to find them is in your HVAC system, which is why it is so important to keep it clean. These pollutants can be dispersed throughout the house when the heater or air conditioner is turned on.
For those in the Huntsville, AL area, Blake Brothers is pleased to offer UV lighting system installation. This is a proven method for killing mold and bacteria in your air conditioners and heaters, as well as in air ducts and filters in your home. Using cutting-edge technology, these systems eliminate hazardous mold, allergens, viruses, and odors while leaving the air in your home smelling fresh and clean. HVAC UV light installation is a wise investment that will benefit both your family's health and your home's value.
Benefits of HVAC UV Lights Installation
It might come as a shock to you, but indoor pollutants can be more harmful than those found outside.
The EPA has listed indoor air pollution as one of the top five environmental risks to public health, so it should come as no surprise that so many of us struggle with allergies, asthma, and other illnesses, given how much time we spend indoors. 
Switching to or installing a UV light system is a great way to improve your home's indoor air quality, but it has many other notable benefits, too, such as:
Improved HVAC system efficiency

Reduced energy costs

Better airflow in your home

Getting rid of mold and mildew

Lower risks of allergies and respiratory issues

Kills bacteria and viruses

Eliminates nasty odors from HVAC system
UV lights are safe, effective, and relatively inexpensive. Plus, they increase the efficiency of your HVAC system. However, for them to work their magic, they have to be installed correctly. If you're not careful, UV lights may hurt your eyes. So make sure you hire an experienced HVAC technician that can do the job right.
How UV Germicidal Lights Work
Ultraviolet light, also known as UV light, is a wavelength of light that the sun naturally emits. But because it is less stable than visible light, it is also more dangerous. Exposure to intense UV light can result in cell damage. 
A UV germicidal light in your ductwork cleans the coils and air that pass through your HVAC naturally. These systems efficiently eradicate microbial pathogens by directing a concentrated beam of light into the area. They may not produce enough UV light to harm humans or animals, but they can kill single-celled organisms like bacteria and viruses almost instantly.   
There are two main types of UV lights for HVAC systems: 
Coil sanitizing lights

are made for air conditioners that are placed close to the evaporator coil, which stores the refrigerant used to cool your home. Dirt, debris, and pet dander tend to accumulate in this area, while the damp conditions make it a likely spot for mold and bacteria to flourish.
Air sanitizing lights

are installed in the supply vents of your HVAC system's ductwork. These UV lights sanitize the air coming out of the vents before it is circulated throughout your home.
Any of these UV light systems are effective in cleaning the air in your home, but you will need to replace the light bulb and schedule professional cleaning at least once a year to ensure that they continue working at their best. Luckily, Blake Brothers does more than just install and fix UV lighting systems in Huntsville. We also perform regular maintenance to keep them in great shape.
Are AC UV Lights Worth It?
Improve the quality of the air you breathe at home, get rid of mold and mildew, and lessen unpleasant odors through HVAC UV light installation.
AC UV lights will be especially advantageous to you and your family under the following conditions:
There is someone with an allergic or respiratory condition in your household.

Allergy and asthma symptoms can be aggravated by mold spores and other pathogens. When combined with an effective air filtration system, ultraviolet (UV) light can kill off these harmful microorganisms.

You have very hot and humid summers where you live.

In areas with very hot and muggy summers like Alabama, air conditioners tend to operate non-stop during the warmer season. This means that the system is more vulnerable to mold growth than it would be in a cooler climate that would require less cooling.

Your HVAC system is contaminated with mold. If a mold specialist found mold growing in your HVAC system, consider installing a germicidal UV light after having the mold removed to prevent it from coming back. Additionally, we advise scheduling routine HVAC tune-ups Blake Brothers, so one of our technicians can check your system for microorganisms and identify any issues before they worsen.
Low Monthly Payments Financing for HVAC, Electrical, and Plumbing Services
Convenient financing options available!
Contact us to find out how you can take advantage of our flexible monthly payment plans for any of our major repair or replacement services.
Why Choose
Blake Brothers?
Instant schedule confirmation.
Book online now to receive your appointment confirmation.
Affordable service, transparent pricing.
Honest, upfront pricing for all our services. No surprises, hidden fees, or extra charges.
Available 24/7 for emergencies.
HVAC or plumbing emergency? Call us!
We're at your service any time of the day or night.
Excellent Financing
Monthly payment plans to fit any budget can finance any major repair or replacement.
Blake Brothers has Technicians Ready to Assist with UV Light Installation in
Plumbing License # CO51200005
We provide HVAC, electrical, and plumbing services throughout Alabama. Click the link below to find out if our services are available in your area.
"Jared did an excellent job diagnosing our HVAC issue. He was able to perform the service in a timely manner and was able to answer every question I had regarding our system!" ---Justin Colar