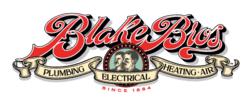 Huntsville's leading slab leak detection and repair company.
Leaks are some of the worst plumbing issues you can encounter. They may not look like an emergency at first, but they can cause substantial damage to your property if you ignore them long enough.
Most serious water damage happens over time rather than all at once. While burst pipes demand immediate attention, it's usually the smaller, undetected issues that cause lasting problems. Slab leaks taking place under concrete floors are especially troublesome – hard to detect and even harder to repair.
Do you suspect a leaking pipe in your property but can't figure out where it is? Contact Blake Brothers before it's too late! Leak detection and repair is both an art and a science, and our plumbing specialists have what it takes to locate and fix every type of plumbing leak imaginable!
Our Process:

Leak Detection Services
Book Instantly Online
Click "Book Online" to schedule your service and receive instant confirmation.
A technician will visit your home
We arrive at your property on time, inspect the issue, and let you know what to expect.
3
Blake Brothers will perform your pipe leak repair
We make sure the job is done right and clean up the job site before we leave.
Customer satisfaction guaranteed
We stand behind our work. Call us anytime for post-service inquiries or concerns.
Huntsville's Most Trusted Slab Leak Detection and Repair Company
​​Leaks are much more discreet compared to plumbing disasters, but just as damaging. They can put your health and property at risk if not dealt with correctly and in a timely manner.
Are you looking for dependable leak detection services in Huntsville, AL? You can't go wrong with choosing Blake Brothers Plumbing, Electrical, Heating & Air. We offer quality and innovative solutions to your plumbing problems, no matter how big or small.
At Blake Brothers, we employ a non-invasive and straightforward approach to slab leak repair. Equipped with advanced tools and expertise gained from extensive training and decades of experience, we detect leaking pipes and faulty plumbing in your home or place of business accurately and without destroying anything. You can count on us to handle your property with care and leave the place clean once we're done with the service. If a repair is necessary, we'll discuss your options with you before starting any work.
As your local plumbing experts, Blake Brothers has your best interests at heart. We understand better than anyone else the unique plumbing needs of Huntsville residents and business owners; making sure to carry out effective slab and pipe leak repair solutions that meet your needs and budget. We provide fair, upfront pricing, so you know exactly what to expect. No unpleasant surprises!
Common Signs of a Slab Leak
A lot of people are unfamiliar with what a "slab leak" is – it's no surprise that they fail to notice the issue until it has already caused some damage.
A slab leak takes place underneath the concrete floor of your home's foundation. It's one of the most elusive types of leaks, which is why homeowners rarely notice it until they find water in odd places around the property.
Water can seep out of your pipes through holes and cracks caused by pipe corrosion, shifting ground, or faulty construction. The resulting damage could go undetected for months, eventually developing into a much bigger problem that requires more expensive repairs. As such, early detection is critical controlling the damage.
Contact a professional plumber if you notice any of these signs:
Sound of running water even when all the taps are turned off
Sudden or gradual spike in your water bill
Cracks in the walls or foundation
Moisture or mildew under the carpet
Stained or discolored floor covering
Heat coming from the floor
Wet spots inside your home
Water pooling where it shouldn't
Drop in water pressure
The last thing you want is an inexperienced plumber dealing with sensitive plumbing issues. For slab leak repair in Huntsville, AL and surrounding areas, trust only Blake Brothers Plumbing, Electrical, Heating & Air! Our team of highly skilled and experienced plumbing specialists is ready to respond to your plumbing emergencies 24/7.
Benefits of Professional Leak Detection Services
Thinking about fixing a leak in your home by yourself? Like most plumbing jobs, slab and pipe leak repairs are not for DIYers or novice handymen. These issues are tough to spot and tricky to service; one wrong move and you could end up damaging your home. The stakes are high, so it's really worth bringing in a specialist.
Here are the top five benefits of hiring a professional plumber:
Accuracy – We can identify the source of the problem without digging or making a mess of your yard.
Advanced Equipment – We use modern technology to eliminate guesswork.
Cost and Time Savings – We know where to look and what to look for, saving precious time and labor costs.
Damage Prevention – We can assess the overall condition of your pipes, identify issues, and recommend needed repairs.
Long-lasting Solutions – We can provide effective, long-term solutions to your plumbing issues.
Leaks can occur anytime, anywhere; and there's no one-size-fits-all solution for fixing them. If you spot any of these signs in your home, call Blake Brothers and schedule a service with us right away!
Low Monthly Payments Financing for HVAC, Electrical, and Plumbing Services
Convenient financing options available!
Need a pipe or slab leak repair but worried about how much it'll cost you? No worries! We offer flexible financing options for our plumbing services in Huntsville, AL and surrounding areas. Contact us to learn more.
Why Choose Blake Brothers?
Instant schedule confirmation
Book online now to receive your appointment confirmation.
Affordable service, transparent pricing
Honest, upfront pricing for all our services. No surprises, hidden fees, or extra charges.
Available 24/7 for emergencies
HVAC or plumbing emergency? Call us!
We're at your service any time of the day or night.
Excellent Financing
Monthly payment plans to fit any budget – finance any major repair or replacement.
Blake Brothers has Technicians Ready to Assist with Leak Detection & Repair in
Plumbing License # CO51200005
We provide HVAC, electrical, and plumbing services throughout Alabama. Click the link below to find out if our services are available in your area.
"Jared did an excellent job diagnosing our HVAC issue. He was able to perform the service in a timely manner and was able to answer every question I had regarding our system!" ---Justin Colar