All drainage lines in your home – sinks, showers, toilets, etc. – run to the sewer system outside. And as more waste, water, and debris get flushed down your drain, your sewer lines begin to clog, eventually leading to system backups or wastewater flooding certain areas of your property.
To avoid all these issues caused by a clogged or inefficient sewer system, schedule regular professional sewer cleaning with Blake Brothers today! We serve Huntsville, AL and neighboring areas.
Our process: Sewer cleaning
Click "Book Online" to schedule your service and receive instant confirmation.
A technician will visit your home
We arrive at your property on time, inspect the issue, and let you know what to expect.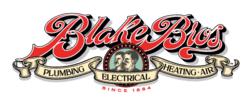 Blake Brothers will perform your sewer cleaning service
We clean your sewer and address developing issues to prevent further damage.
Customer satisfaction guaranteed
We stand behind our work. Call us anytime for post-service inquiries or concerns.
Huntsville's Top Sewer Cleaning Service
Sewer cleaning requires skill, experience, and specialized equipment; the slightest error may not only cost you time and money, but get you injured as well. Besides, this job is not for the faint of heart. The smell alone is enough to make you bolt.
If you are looking for a safe and effective way to clear and restore the flow of your sewer system, contact Blake Brothers Plumbing, Electrical, Heating & Air today! As the leading sewer cleaning company in Huntsville, AL and beyond, we have the expertise, knowledge, and tools to tackle sewer cleaning of any scale.
At Blake Brothers, our certified technicians are extremely through and highly-trained in all the different cleaning methods we employ. We do not only address the issue at hand, but also look out for and address developing issues to keep them from becoming bigger and more expensive problems. We customize our methods to your specific needs and provide honest, upfront pricing for all our services.
Signs Your Sewer Needs Cleaning
Sewer lines are hidden out of sight, which is why most people don't realize that there's something wrong with their sewer system until it's too late.

Call professional sewer service if you notice these signs:
Several slow and backed-up drains.
One clogged or backed-up drain in your home usually means there's something wrong with the drain pipe. However, when multiple drains are manifesting the same problems, the issue could be much deeper – sewer-line deep.
Foul, sewer-like smells in the house.
Sewer gas is likely to back-up, exit the drains, and into your home as your sewer lines get narrower due to dirt and gunk build-up. If this happens, it's just a matter of time before sewage starts backing up, too. Schedule a sewer cleaning as soon as possible.
Wastewater at the sewer clean out.
Older homes have a sewer clean out, typically located outside, near the bushes. If you unscrew the plastic cap and find wastewater inside, it means that your sewer is starting to back up and needs to be cleaned.
Leaving sewer line issues unattended can result in severe clogging and pipe damage. If your sewer is backing up or you notice any of the signs mentioned above, contact Blake Brothers right away! We'll inspect and clean your sewer before it causes a mess in your property.
Primary Causes of Sewer Clogs and Backups
Sewer backups occur when subterranean water enters your home through the sewer or drainage system, such as your sink, shower, or toilet. Sewer backups can happen for several reasons, but commonly problems are due to human error/negligence.
The following are the leading causes of clogged sewers and sewer backups at home:
Flushing paper towels, wipes, sanitary products, and diapers down the toilet.

Clogging due to fat, oil, grease, food, and other debris.

Old and deteriorating pipes causing cracks or fractures in the sewer line.

Plant or tree roots infiltrating the sewer lines.

Excess rainwater going to the sewer system.
How Often Should You Have Your Sewer Cleaned?
Sewer lines are typically cleaned using hydro jetting technology, a process the uses a high-pressure nozzle to flush water and waste down the sewer. The pressure cuts through build-ups and debris in the pipes, effectively clearing clogs and blockages.
As a general rule, you should schedule a professional sewer cleaning service every 18 months to ensure that your lines keep working as they should. This also helps guarantee a safe, sanitary, and healthy environment for your family.
Any time you sense something wrong with your sewer system, don't hesitate to contact Blake Brothers! We offer same-day service for sewer line emergencies that require our immediate attention. After our service, your pipes will be as clear as when they were new!
Low Monthly Payments Financing for HVAC, Electrical, and Plumbing Services
Convenient financing options available!
Blake Brothers offers flexible financing options for our sewer services in Huntsville, AL and surrounding areas. Interested in this amazing offer? Get in touch with us today!
Why Choose Blake Brothers?
Instant schedule confirmation
Book online now to receive your appointment confirmation.
Affordable service, transparent pricing
Honest, upfront pricing for all our services. No surprises, hidden fees, or extra charges
Available 24/7 for emergencies
HVAC or plumbing emergency? Call us!

We're at your service any time of the day or night.
Monthly payment plans to fit any budget – finance any major repair or replacement.
We provide HVAC, electrical, and plumbing services throughout Alabama. Click the link below to find out if our services are available in your area.
"Jared did an excellent job diagnosing our HVAC issue. He was able to perform the service in a timely manner and was able to answer every question I had regarding our system!"