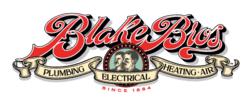 Invest in the Health and Efficiency of Your Commercial HVAC System
There is nothing more disruptive to business operations than a broken air conditioner in the middle of summer or a lack of heat in the dead of winter. This is why Blake Brothers Plumbing, Electrical, Heating, & Air is dedicated to providing fast and reliable commercial HVAC services in Huntsville, AL and the surrounding areas.
Our HVAC technicians are well versed in servicing and installing state-of-the-art heating and cooling systems in buildings and commercial establishments. We can quickly identify the issue and carry out the repairs (or replacement, if needed) to bring comfort back to your office or place of business.
Our Process: Commercial HVAC Repair & Replacement
Book Instantly Online.
Click "Book Online" to schedule your service and receive instant confirmation.
A technician will visit your home.
We arrive at your property on time, inspect the issue, and let you know what to expect.
3
Blake Brothers will perform your commercial HVAC service.
We fix or replace your business's HVAC system, and we work quickly to get the job done on time.
Customer satisfaction guaranteed!
We stand behind our work. Call us anytime for post-service inquiries or concerns.
Commercial HVAC Experts in Huntsville, AL
Commercial HVAC systems are built with the special needs of a commercial setting in mind and are very effective at regulating the temperature of huge spaces. When they break down, however, they can bring operations to a grinding halt.
HVAC systems are so complex that even if only one component fails, the whole system may be compromised. That's why every business owner needs access to dependable commercial HVAC companies that they can run to for immediate HVAC service.
Luckily, Huntsville-area business owners can always count on Blake Brothers for quick and effective HVAC solutions. Our technicians work around the clock, so your employees and customers don't have to deal with the discomfort caused by a faulty system for long.
Our HVAC team consists of highly skilled and trained professionals with extensive industry experience. You can rely on us to give you sound advice and viable solutions to your hearing and cooling concerns. We can also help you come up with a comprehensive HVAC strategy that is tailored to the specific requirements of your organization. With our number on your speed dial, you can rest easy knowing that expert help is on the way anytime you need it.
Your One-Stop-Shop for All Commercial HVAC Services
You probably don't give your HVAC system much thought, but it runs nearly nonstop for most of the year. Even on milder days, it's still working to provide some cooling and ventilation. As a result, it's bound to start showing signs of wear and tear sooner rather than later.
Commercial heating and cooling systems are much more difficult to service than residential ones because of their size. They require a different level of expertise, and this is where the commercial HVAC experts at Blake Brothers come in.
New HVAC Unit Installation
If you're in the market for a new commercial HVAC unit, we can help you determine the right option for your space and budget. We'll assess your situation and make recommendations based on the unique demands and heating/cooling requirements of your space. We'll also show you how to maintain your business' new HVAC equipment so it keeps operating as smoothly and efficiently as possible for years to come.
Commercial HVAC Repair
Even the most reliable and well-maintained heating and cooling units break down. If you own a business in Huntsville and find yourself in need of commercial HVAC repair services, know that you can always turn to Blake Brothers for prompt, effective, and long-lasting solutions.
We are the leading provider of comprehensive heating, air conditioning, and ventilation repair services in the area. Our certified HVAC technicians have the knowledge, skills, and tools to get your system back up and running as quickly as possible. This cuts down on unplanned downtime and increases operational productivity.
Commercial HVAC Replacement
If your HVAC system breaks down often or needs expensive repairs, you might want to think about getting a new one. Investing in a system upgrade will yield many benefits for your company, such as: increased productivity, cost savings, and a much lower rate of HVAC system failure.
We'll work with you to determine your business's specific heating, cooling, and ventilation requirements and then recommend a system that will meet those needs.
Customized HVAC Maintenance
If you can't remember your last HVAC professional maintenance service, it's probably time to schedule a new one. These inspections are crucial in ensuring that minor issues don't get worse and become more expensive to fix. Moreover, well-maintained commercial systems tend to have longer lifespans than neglected ones.
Blake Brothers' Commercial HVAC Maintenance Agreement offers the highest level of dependability and energy efficiency. They can also help your company save more money by preventing unplanned repairs.
Our customized maintenance plans typically include:
Regular HVAC Maintenance
Heating Repair Discounts
Cooling Repair Discounts
24/7/365 Emergency Service
Priority Service
The HVAC team at Blake Brothers services a wide variety of brands and has the knowledge and tools necessary to handle the heating and cooling requirements unique to your company. No matter what your business' heating and cooling needs are, you can rely on us to consistently deliver high-quality results.
What to Expect During Commercial HVAC Repair Service
If your HVAC system does not receive professional maintenance at least once a year, it will age and develop problems much faster than expected, no matter how good or expensive it is.
When you call Blake Brothers for a repair service, our technicians will check the condition of every major part of your system. This service includes, but is not limited to:
Lubricating moving parts (such as your blower fan motor)
Ensuring all filters, condensate drains, and burners are clean and free of obstructions
Checking the electrical components of your HVAC system
Testing the condenser and compressor
Running a full range of diagnostics to ensure your system is ready for any season
Why You Need Professional HVAC Service
A lot of work goes into figuring out the most efficient way to heat and cool a commercial space. Every part of the system must work together to achieve efficient heating and cooling.
The technicians at Blake Brothers always perform heat gain and loss calculations, ductwork evaluations, and lifetime cost analyses before every HVAC installation or replacement to make sure that you get the most out of your investment.
Low Monthly Payments Financing for HVAC, Electrical, and Plumbing Services
Convenient financing options available!
Budget is a concern for many businesses dealing with sudden HVAC failures. Our flexible payment plans allow you to get the work done now and pay for it in easy installments over time.
Why Choose
Blake Brothers?
Instant schedule confirmation.
Book online now to receive your appointment confirmation.
Affordable service, transparent pricing.
Honest, upfront pricing for all our services. No surprises, hidden fees, or extra charges.
Available 24/7 for emergencies.
HVAC or plumbing emergency? Call us!
We're at your service any time of the day or night.
Excellent Financing
Monthly payment plans to fit any budget can finance any major repair or replacement.
Blake Brothers has Technicians Ready to Assist with Commercial HVAC in
Plumbing License # CO51200005
We provide HVAC, electrical, and plumbing services throughout Alabama. Click the link below to find out if our services are available in your area.
"Jared did an excellent job diagnosing our HVAC issue. He was able to perform the service in a timely manner and was able to answer every question I had regarding our system!" ---Justin Colar