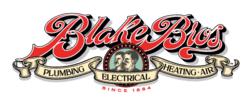 Huntsville sump pump services you can rely on!
Your sump pump may lie idle for most of the year, but you expect it to kick into action and prevent basement flooding when heavy rain starts to pour.
Sump pumps are essential for keeping your basement dry and must be repaired or replaced immediately in case of damage. If you suspect something is wrong with your sump pump, contact Blake Brothers right away. We have been offering high-quality plumbing services to our Huntsville customers and look forward to doing the same for you.
Our Process:

Sump Pump Repair
Book Instantly Online.
Click "Book Online" to schedule your service and receive instant confirmation.
A technician will visit your home.
We arrive at your property on time, inspect the issue, and let you know what to expect.
3
Blake Brothers will perform your sump pump repair.
We inspect your pump and perform needed repairs.
Customer satisfaction guaranteed.
We stand behind our work. Call us anytime for post-service inquiries or concerns.
The Go-To Sump Pump Experts in Huntsville, AL
After a long and tiring day, the last thing you'd want to do is deal with a broken sump pump. So, instead of adding that to your overflowing to-do list, why not add it to ours? Call us at Blake Brothers today, and we'll send a team of plumbing experts your way to assess the problem.
After thoroughly inspecting the pump, our technician will explain the problem and discuss your best repair options. If the damage is severe and warrants a replacement, we'll assist you in choosing the appropriate unit for your location. Our services are highly recommended – you can rest assured that your new pump will continue to serve you well in the future.
As a locally owned and operated plumbing company, we are committed to providing 5-star service to all our Huntsville customers. You can count on our competent plumbing professionals to deliver quality sump pump repair and replacement at reasonable rates. If you are dissatisfied with the quality of our service, please let us know so we can rectify the issue before we go.
Common Signs of Sump Pump Failure
Dealing with a malfunctioning sump pump is bad enough, but what if it fails in the middle torrential downpour? Fortunately, sump pumps often show visible signs of damage, giving you enough time to contact your local plumber for repairs.
Closely monitoring the functioning and condition of your pump will save you from a flooding disaster. Here are five common signs of failure to watch out for.
Running Non-Stop
A sump pump that continues to run after all the water is removed from the basin puts enormous strain on the motor and is at risk of overheating. If this persists, your pump could get overworked to the point of failure.
Strange Noises

Like every other gadget and appliance in your home, sump pumps make weird noises when something's wrong in the system. Sump pumps normally operate quietly, so anything louder than a gentle buzz could mean there's a problem.
Erratic Cycles
Is your pump cycling in sporadic bursts? It's possibly due to a failed check valve. When this happens, the water being pumped out will flow back into the pit, forcing the system to pump the same water repeatedly. This perpetual activity places a lot of stress on the motor, exhausting the pump and increasing the risk of early failure.
Won't Turn On
Your pump may fail to turn on for various reasons. If you're fortunate, the issue is only a tangled float switch, which is simple enough to untangle without professional help. However, if the float switch is the issue, the problem could be serious enough to require a complete replacement.
Rust Formation
Rust in your sump pump is something that you need to fix right away. Rust feeds on the iron in the water and, when not addressed soon enough, can cause water discoloration and clog the system. The longer you wait, the worse it will get.
Sump pumps can fail at any time. And should yours fail during heavy rainfall, you may have to deal with significant water damage.
Blake Brothers offers emergency plumbing services outside our standard business hours. We have experts on call 24/7 to help you when you need us the most.
How Long Do Sump Pumps Last?
Sump pumps should be replaced every 7 to 10 years on average. Repairing an old pump would cost around the same as replacing it, with a substantially lower return on investment.
But just because they can last a decade doesn't mean you should wait until your pump is on the verge of failing before replacing them. Several factors influence the life and efficiency of sump pumps, such as frequency of use, average cycle duration, and the volume of water it must displace. Moreover, pumps that do not receive regular maintenance tend to fail much earlier than expected.
Is It Time for a Sump Pump Replacement?
Performance. The best way to know if it's time to replace your sump pump is to monitor the performance of the pump. If your pump is just a few years old but fails and requires repairs frequently, you're better off getting a new one.
Old Model. Do you still use an older plastic or PVC pump? Consider upgrading to a cast-iron, self-lubricating pump for better efficiency. These pumps are quieter, more reliable, and require less intensive maintenance.
Age. Replace sump pumps approaching ten years regardless of performance. It's simply not worth the risk. Besides, replacing a pump is much cheaper and less stressful than renovating a basement ravaged by water damage.
When it's time to replace your pump, give Blake Brothers a call! You can count on our expert plumbers to recommend the best solutions and deliver exceptional service every time. With us, you get your money's worth and more!
Low Monthly Payments Financing for HVAC, Electrical, and Plumbing Services
Convenient financing options available!
Take advantage of our flexible financing options for sump pump repair and replacement in Huntsville and surrounding areas. Contact us to learn more about this amazing offer!
Why Choose Blake Brothers?
Instant schedule confirmation
Book online now to receive your appointment confirmation.
Affordable service, transparent pricing.
Honest, upfront pricing for all our services. No surprises, hidden fees, or extra charges
Available 24/7 for emergencies
HVAC or plumbing emergency? Call us!
We're at your service any time of the day or night.
Excellent Financing
Monthly payment plans to fit any budget – finance any major repair or replacement.
Blake Brothers has Technicians Ready to Assist with Sump Pump Repair & Replacement in
Plumbing License # CO51200005
We provide HVAC, electrical, and plumbing services throughout Alabama. Click the link below to find out if our services are available in your area.
"Jared did an excellent job diagnosing our HVAC issue. He was able to perform the service in a timely manner and was able to answer every question I had regarding our system!" ---Justin Colar