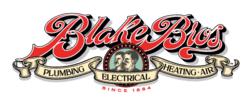 Dependable backflow testing by certified industry professionals.
Backflow prevention devices are installed on your pipes to make sure that water moves in one direction, preventing wastewater from backing up and entering your clean water sources. But like any mechanism, these devices are not failproof. You need to test them regularly to verify that they are doing their job in keeping your water safe.
Blake Brothers is a state-certified backflow testing company that provides reliable backflow testing services in Huntsville and surrounding areas. We'll work with you to ensure the safety of your water supply and that your system is up to code.
Our Process: Sewer Line Repair
Book Instantly Online.
Click "Book Online" to schedule your service and receive instant confirmation.
A technician will visit your home.
We arrive at your property on time, inspect the issue, and let you know what to expect.
3
Blake Brothers will perform your backflow testing service.
We perform the testing service and verify your assembly is up to code.
Customer satisfaction guaranteed.
We stand behind our work. Call us anytime for post-service inquiries or concerns.
Certified Backflow Testing Pros in Huntsville, AL
Backflow issues are not only a threat to the safety and cleanliness of your community's drinking water; they can also become a very costly problem for the owner/s of the device that caused the contamination. That said, you must make it a point to schedule a test at least once a year.
If you need backflow testing in the Huntsville area, turn to the professionals at Blake Brothers Plumbing, Electrical, Heating, and Air! Blake Brothers' backflow testing experts are among the most well-trained in the industry.
Our technicians have the credentials, experience, and knowledge to test your backflow assembly and ensure its compliance with state regulations. If issues are identified, we will provide you with a comprehensive analysis and recommend the best solutions possible. As a locally-owned company, you can count on us to go above and beyond for you!
What Is Backflow Testing and Why Is It Necessary?
The performance of your backflow system degrades over time, mainly due to wear and tear caused by elevated water pressure and poor water quality. Backflow happens when water in the pipes flows in reverse, causing used/gray water to enter the system and contaminate the potable water. It is a significant health risk that impacts not only your home but your neighborhood as well.
Backflow testing evaluates the water pressure in your system and the efficiency of your assembly to ensure that your water supply is clean and safe for daily use. More importantly, testing draws attention to issues within the assembly that needs to be fixed to keep the system running smoothly.
If it has been more than a year since your last test, contact Blake Brothers today to book your backflow testing service! Failure to test your device regularly can make your water system more susceptible to a backflow event, polluting the water supply and endangering the people that use it.
Signs You Needs to Get Backflow Testing Now
Routine testing allows you to check whether or not your assembly continues to do its job. However, backflow prevention devices can still develop problems despite regular inspections.
Schedule a backflow test if your plumbing system exhibits one or more of the following signs:
Leaks.

Backflow devices are meant to prevent water from entering your home or workplace. Leaks in your plumbing could suggest that your backflow system is not functioning properly.
Change in water pressure.

Backflow could be the reason behind the sudden drop in your water pressure, especially if the pressure shift is accompanied by other symptoms, such as leaks.
Water backflow indoors.

This is one of the most telling signs of a backflow problem. If you notice water backflowing into your home, call a specialist asap!
Discolored or contaminated water.

Backflow is likely the cause of discolored or unclean water from your faucets. It can introduce impurities into your water supply, causing discoloration and dirtiness.
Strange noises.

Backflow can cause water to make gurgling or bubbling noises. If you hear odd noises coming from your pipes, consider getting your system tested.
Frequent clogging.

Are you dealing with clogged pipes more often than usual? Backflow could be to blame.  Backflow allows contaminants and dirt to enter your pipes, causing obstructions.
Unusual tastes or odors in your water.

Have you noticed a weird taste or smell in your water?  Backflow can introduce impurities into your water supply, resulting in strange tastes and odors.

Outdated system.

Backflow systems tend to lose their effectiveness with time. If your system is more than ten years old, have it inspected by a professional more frequently.
Blake Brothers provide quick and reliable water testing in Huntsville. Our qualified technicians have the expertise, experience, and tools to get things done quickly, minimizing disruptions to your daily schedule.
If repairs are necessary, we will explain the situation to you and recommend solutions that make sense for your needs and budget.  We also provide upfront pricing, so you know exactly how much you'll have to pay. No unwelcome surprises!
At Blake Brothers, we take great pride in providing exceptional service at an affordable price.
Contact Us
Low Monthly Payments Financing for HVAC, Electrical, and Plumbing Services
Convenient financing options available
Blake Brothers' plumbing and backflow testing services in Huntsville are made more accessible with our flexible financing options!
Interested in this offer? Contact us to learn more!
Why Choose
Blake Brothers?
Instant schedule confirmation
Book online now to receive your appointment confirmation.
Affordable service, transparent pricing.
Honest, upfront pricing for all our services. No surprises, hidden fees, or extra charges
Available 24/7 for emergencies
HVAC or plumbing emergency? Call us!
We're at your service any time of the day or night.
Excellent Financing
Monthly payment plans to fit any budget – finance any major repair or replacement.
We provide HVAC, electrical, and plumbing services throughout Alabama. Click the link below to find out if our services are available in your area.
Blake Brothers has Technicians Ready to Assist with Backflow Testing in
Plumbing License # CO51200005
We provide HVAC, electrical, and plumbing services throughout Alabama. Click the link below to find out if our services are available in your area.
"Jared did an excellent job diagnosing our HVAC issue. He was able to perform the service in a timely manner and was able to answer every question I had regarding our system!" ---Justin Colar