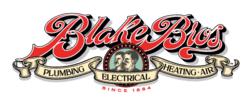 Trusted Provide of Nest Smart Home Products and Services in Huntsville
If you are familiar with home automation, you've likely heard of Nest. Nest is a leading pioneer in the smart home revolution with a mission of "creating the thoughtful home: a home that takes care of the people inside it and the world around it."
Blake Brothers Plumbing, Electrical, Heating & Air provides a full line of Nest high-tech home automation products, and we'd love to assist you in creating your own Nest-connected smart home!
Our Process: Nest Connected Smart Home Service
Book Instantly Online.
Click "Book Online" to schedule your service and receive instant confirmation.
A technician will visit your home.
We arrive at your property on time, inspect the issue, and let you know what to expect.
3
Blake Brothers will perform your Nest Connected Smart Home Service.
Your smart home devices are installed by our Nest Smart Home Products specialists.
Customer satisfaction guaranteed!
We stand behind our work. Call us anytime for post-service inquiries or concerns.
Huntsville's Leading Provider of Nest Smart Home Products and Services
It's been fascinating to watch smart home technology take off, and Nest has always been at the forefront of the smart home revolution. The company's product line consists of a number of smart devices that utilize cutting-edge technology to improve home security and energy efficiency and can be used or controlled with an app. Beyond brainy tech, Nest home automation devices also stand out for their simple, minimalist, chic design.
Nest-connected devices work and integrate easily with each other and several other home automation devices, so your smart home can be customized to meet your family's unique needs. With Nest home automation products, you can control your lights, locks, cameras, indoor temperature, and more automatically.
Blake Brothers is the leading provider of Nest Connected Smart Home service throughout the areas surrounding Huntsville, Athens, Madison, and Decatur. We would love to help you make your home smarter and more intuitive than you've ever imagined possible.
Nest Connected Smart Home Products
Nest's innovative home security, safety, and energy products work independently, with each other, and with other home automation devices from other brands to make homes safer, smarter, and more efficient than ever before.
Nest Learning Thermostat
The Nest Learning Thermostat has revolutionized home climate control and energy efficiency, so you no longer need to figure out how to program a complicated thermostat or remember to turn down the heat before heading out. This handy device learns your family's patterns and automatically adjusts itself accordingly. You can also control it remotely via a smartphone, tablet, or computer.
Since the Nest Learning Thermostat came out, its users have saved billions of kWh of electricity. In addition to saving money on utility costs, users appreciate how simple it is to set up and operate. The stylish layout is also a big draw. The thermostat is available in a variety of finishes, including copper, stainless steel, black, and white, to match the interior design of almost any home.
Nest Protect Smoke and CO Detector
Home automation meets home safety with the all-new Nest Protect—the smoke alarm other alarms look up to!
The new Nest Protect has been redesigned from the inside out. It has an industrial-grade smoke sensor, tests itself automatically, and lasts up to a decade. It's also the first home alarm that you can silence from your phone without any additional hardware.
Carbon monoxide (CO) is an invisible, poisonous gas, but the new Nest Protect sees CO you can't and tells you where it's hiding. When there's a problem or the batteries run low, the device sends you a message on your phone. And just like the original Nest Protect, it tells you exactly what's wrong—smoke or carbon monoxide—so you don't have to guess why the alarm is going off.
As with all Nest products, installing the smoke detector is pretty simple. People also love the fact that the app allows them to check in remotely and instantly alerts the entire family whenever it detects anything dangerous. And when you turn off the lights at night, the device gives off a brief green glow to indicate that everything is in working order.
Nest Cam Indoor Security Camera
The Nest Cam Indoor Security Camera is designed to help you look after your home and family—even when you're away.
You can't always be around to see what's happening at home. With Nest Cam Indoor, you don't have to be. Plug in the device and watch the 24/7 action live in 1080p HD; you'll get a 130° wide-angle view and advanced Night Vision, and you can zoom in for a closer look.
The Nest Cam also comes with listening and talking capabilities, so you can hear what's happening at home or even tell your dog to get off the couch. Plus, when you sign up for Nest Aware, you can go back and see everything you missed. Nest Cam takes only a few minutes to install. Literally. Just plug in, connect, and set up from your phone.
Other notable features of the Nest Cam indoor security camera include:
24/7 Continuous Recording – Nest Cam records up to 30 days of video history, not just snippets.
Activity Zones – Get alerts when something happens in specific areas you care about.
Motion Alerts – Get an alert on your phone or tablet if there is activity within your home.
A Nest Home – When you set your Nest Thermostat to Away, Nest Cam can automatically turn on.
With Nest Smart Home Products, you are only a few steps away from living in a smart home equipped with the best automation technologies.
To ensure proper installation and maximize the benefits and features of your smart home system, you should only work with a reputable Nest Smart Home products and services provider like Blake Brothers. Our highly trained team can walk you through the features of each product and how to use them, and even help you craft custom smart home solutions for your home and family.
Creating a Smart Home with Nest
The Nest product line is cutting-edge in many ways, perhaps most notably in their ability to communicate with one another. All Nest products are compatible with other Nest devices and with many smart home products from other brands. Imagine waking up to soft lighting, a comfortable temperature, and the aroma of freshly brewed coffee, all thanks to a carefully curated set of home automation devices.
Nest has established itself as a market leader in home automation, and a number of smart home devices are now marked with a special logo that informs consumers that they are Nest-compatible. With Nest products, you can save money, boost security, and improve the quality of your home life.
Are you ready to create your very own automated home? Blake Brothers can help you start your journey on the right foot. Contact us today!
Low Monthly Payments Financing for HVAC, Electrical, and Plumbing Services
Convenient financing options available!
We are making smart homes more accessible and affordable than ever with our flexible and convenient financing options. Interested? Contact us to learn more!
Why Choose
Blake Brothers?
Instant schedule confirmation.
Book online now to receive your appointment confirmation.
Affordable service, transparent pricing.
Honest, upfront pricing for all our services. No surprises, hidden fees, or extra charges.
Available 24/7 for emergencies.
HVAC or plumbing emergency? Call us!
We're at your service any time of the day or night.
Excellent Financing
Monthly payment plans to fit any budget can finance any major repair or replacement.
Blake Brothers has Technicians Ready to Assist with Nest Smart Home Products in
Plumbing License # CO51200005
We provide HVAC, electrical, and plumbing services throughout Alabama. Click the link below to find out if our services are available in your area.
"Jared did an excellent job diagnosing our HVAC issue. He was able to perform the service in a timely manner and was able to answer every question I had regarding our system!" ---Justin Colar