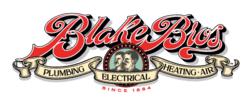 Your go-to plumbing service provider in Huntsville, AL and beyond!
Plumbing systems are designed to be durable – and they should be. Afterall, they have to withstand varying pressures, transport hot and cold water, and dispose of wastewater day in and day out. The thing is; factors such as age, wear and tear, poor maintenance, and a variety of issues take their toll on your plumbing, and can result in leak, clogs, and overall degeneration if not dealt with promptly.
Plumbing issues can be disastrous on multiple levels. They are not only stressful, but also potentially dangerous to home and health. They need immediate attention, before something worse happens.
Whether you require commercial or residential plumbing services in Huntsville, AL and nearby areas, Blake Brothers is here to make sure you get the help you need, fast!
Our Process:

Plumbing Repair
Book Instantly Online
Click "Book Online" to schedule your service and receive instant confirmation.
A technician will visit your home
We arrive at your property on time, inspect the issue, and let you know what to expect.
3
Blake Brothers will perform your Plumbing Repair or Maintenance
We make sure the job is done right and clean up the job site before we leave.
Customer satisfaction guaranteed
We stand behind our work. Call us anytime for post-service inquiries or concerns.
An Emergency Plumbing Services Company You Can Rely On
Having a fully-functional plumbing system is critical to comfort and productivity. It can be difficult to get anything done without it, which means you want to make sure that your plumbing is installed properly or fixed right when repairs are needed.
You don't want just any plumber to fix your plumbing. You want a tried and tested company that puts you first. For reliable plumbing repair in Huntsville, choose Blake Brothers!
Blake Brothers Plumbing, Electrical, Heating & Air is committed to providing the best Huntsville plumbing services possible. We have been providing superior solutions in North Alabama for decades, earning the trust and recommendations of homeowners, residents, and businesses in the area. No matter the scale or complexity of the job, you can count on our certified and licensed plumbers to deliver cost-efficient solutions and quality results.
We offer full-range plumbing service, including:
Kitchen Plumbing
Bathroom Plumbing
Plumbing Installation and Replacement
Plumbing Remodel
Plumbing Repair & Maintenance
Shut-Off Valve Repair
Toilet Replacement & Repair
Faucet Replacement & Repair
And more!
Signs You Need a Plumbing Contractor to Inspect Your Plumbing Fixtures
Plumbing disasters often catch you off guard. To avoid this unwelcome surprise, keep watch of your system, so you can detect and fix the little problems before they become catastrophes.
If you've been noticing any of the following issues, get in touch with the experts at Blake Brothers as soon as possible.
Slow drains – Slow drains are usually due to clogging, which will only get worse over time if left unaddressed. Cleaning your drains regularly will keep your pipes free of clogs, but if clogging occurs, call us! Avoid using chemical drain cleaners as they might lead to pipe corrosion.
Low water pressure – Is your toilet taking too long to flush? Are your faucets and showers not spraying water with enough force? You may have low water pressure. Our team can help you quickly locate the source of the problem and find the best ways to fix it.
Leaks – Do you have a leaking pipe, faucet, or toilet in your home? Attend to them immediately to avoid wasting water and money. If you don't know the first thing about fixing a leak, contact Blake Brothers and get your plumbing back to normal in record time.
Water spots on your walls and ceiling or water pooling around where it shouldn't be, are common signs of leaking. This could escalate into a serious problem and a health/safety risk if not addressed the right way.
The plumbing system is one of the most easily ignored aspects of a home. But if you want to get the most out of it, you need to pay more attention. Routine inspection and professional maintenance will help keep your pipes in good shape and save you from unnecessary expenses.
For your peace of mind, schedule a maintenance service with Blake Brothers today!
Reasons to Hire a Professional Plumber
Whether you need a low-flow toilet installed or require emergency plumbing services, always choose to hire a professional plumber for the job. Here are the top four reasons why:
Latest Equipment – Professionals have access to the right tools and equipment and are trained on how to handle them.
Skills and Expertise – Certified plumbers have the knowledge, training, and experience required to identify the problem correctly and recommend reliable solutions.
Guaranteed Work – Professional, licensed plumbers guarantee their work. If there are errors, they will correct them without additional cost to you.
Enhanced Lifespan – Professional repair and routine maintenance can help increase the overall lifespan of your plumbing system.
Plumbing work is not something you DIY. Without the right knowledge, skills, and training, you could end up hurting yourself or making the problem worse. If you want your pipes and fixtures to work as they should and avoid the headaches and hassles that accompany a plumbing emergency, you should only engage with qualified and licensed plumbers from the get-go.
Blake Brothers uses time-honored techniques along with cutting-edge technology to make sure that the job is done right and to your expectations.
We Offer 24-Hour Emergency Services!
Time is of the essence when dealing with a plumbing crisis. Early detection can be the difference between a minor repair and disaster. That is why Blake Brothers has a dedicated team of plumbers available around the clock, ready to serve any time you need us; when you need us most.
Our dispatches are here to take your call 24/7. We offer same-day service and, should you need immediate assistance for a plumbing emergency, we'll have a plumber sent your way without delay!
Low Monthly Payments Financing for HVAC, Electrical, and Plumbing Services
Convenient financing options available!
Do you need urgent plumbing repair but worried about the potential expenses? Blake Brothers offers flexible financing options for plumbing services in Huntsville, AL and surrounding areas. Get in touch with us to learn more about this offer.
Why Choose Blake Brothers?
Instant schedule confirmation
Book online now to receive your appointment confirmation.
Affordable service, transparent pricing
Honest, upfront pricing for all our services. No surprises, hidden fees, or extra charges.
Available 24/7 for emergencies
HVAC or plumbing emergency? Call us!
We're at your service any time of the day or night.
Excellent Financing
Monthly payment plans to fit any budget – finance any major repair or replacement.
Blake Brothers has Technicians Ready to Assist with Plumbing Services & Repair in
Plumbing License # CO51200005
We provide HVAC, electrical, and plumbing services throughout Alabama. Click the link below to find out if our services are available in your area.
"Jared did an excellent job diagnosing our HVAC issue. He was able to perform the service in a timely manner and was able to answer every question I had regarding our system!" ---Justin Colar