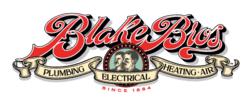 Professional Circuit Breaker Services in Huntsville
We use more electricity today than ever before. From our smartphones and tablets to our televisions, gaming systems, and countless other electronic devices, we are just about always relying on our homes' electrical systems to power the things that are vital in our daily lives.
Unfortunately, our homes aren't always up to meeting our needs. Even homes built just 10 years ago may not be able to sustain the current demand for electricity; surely, older homes have an even harder time.
The good news? Blake Brothers' highly-trained and experienced electricians can help. We offer high-quality circuit breaker repairs and replacement services in Huntsville and surrounding areas.
Our Process: Circuit Breaker Repair
Book Instantly Online.
Click "Book Online" to schedule your service and receive instant confirmation.
A technician will visit your home.
We arrive at your property on time, inspect the issue, and let you know what to expect.
3
Blake Brothers will perform your circuit breaker repair.
We have the expertise, tools, and training necessary to do the job right the first time.
Customer satisfaction guaranteed
We stand behind our work. Call us anytime for post-service inquiries or concerns.
Prompt, Reliable, and Safe Circuit Breaker Services in Huntsville
Electrical circuit breakers play a crucial role in ensuring the smooth operation of your home. A fully-functional circuit breaker can keep your home safe from fires, power surges, and uneven electricity flow. On the other hand, a faulty or overloaded circuit breaker can cut off the power supply suddenly, damaging your electronics and possibly wreaking havoc in your home.
If the circuit breaker in your Huntsville home or business malfunctions, call Blake Brothers immediately! We have some of the best electricians in the area, hand-picked for their exceptional skills, expertise, eagerness to learn, and reliability. Our employees are subjected to background checks and screenings in order to give our clients greater peace of mind.
We use our expertise to conduct a thorough examination of your circuit breaker, noting any potential dangers or underlying issues that we find. We will then provide you with a comprehensive list of the repairs you'll need. Replacements are only suggested if they are really needed, and we tell you the price up front so there are no surprises.
When you work with us, you can rest assured that your circuit breaker repair or replacement complies with all applicable electrical codes and standards.
Signs Your Circuit Breaker Needs Repair or Replacement
Recognizing the warning signs of a malfunctioning circuit breaker ensures the continued safety of your home and electrical system. The following signs could mean your circuit breaker is in need of immediate repair or replacement:
The circuit breakers are constantly tripping or not resetting properly.
There are strange noises coming from the electrical panel.
The electric panel feels hot when you touch it.
A burning odor emanates from the electrical panel.
Certain electrical appliances cause the lights to dim or flicker when in use.
You get an electric shock when you plug in/unplug certain appliances.
The moment you detect anything amiss with your electrical system, call Blake Brothers to protect your home from a potential electrical emergency. Our licensed electricians will safely fix, replace, and check your circuit breakers as needed. We provide 24/7 emergency electrical repairs, so we can be there for you when you need us most.
When to Replace Your Circuit Breaker
Under ideal conditions, circuit breakers can last an average of 30 years. But we all know that ideal conditions don't exist. When electrical breakers trip often, usually because of overloading or short circuiting, it can wear them out faster.
But how do you know when it's time to swap out that breaker? You should consider replacing your breaker if you notice the following:
1. Burning Smells
A burning odor coming from the panel could mean the wires have overheated and can no longer protect your home from electrical shorts. If this happens, turn off your home's main power supply and call Blake Brothers for emergency assistance.
2. Breakers Tripping Often
A circuit breaker trips to protect your home when it senses a power surge or too much electricity. If a circuit breaker trips every time you turn on a specific appliance, such as the microwave or vacuum cleaner, it's likely on the verge of failing.
3. Signs of Physical Damage
If you observe scorch marks around the breaker, at an outlet, or appliances that are malfunctioning due to melted wires, contact Blake Brothers right away for an emergency electrical rewiring service. When a wire melts, it's only a matter of time before something in your home catches fire.
4. Breaker Doesn't Stay Reset
If you've been constantly resetting the breaker for the past few months, it's possible that it has already failed. Schedule an inspection of the entire circuit as soon as possible to make sure the wiring has not sustained any significant damage.
5. Old Age
Even though circuit breakers have a long lifespan, a panel that hasn't been serviced in over ten years has a higher failure rate. Regular electrical panel inspection and maintenance can make a huge difference in the performance of your electrical system and the safety of your home.
Professional Repair and Replacement is Key
We cannot overstate the significance of safety when dealing with anything involving electricity. Your electrical panel is wired directly to the power company that supplies your electricity. Replacing a circuit breaker incorrectly can result in a lethal electric shock.
Electrical work is complicated and should not be attempted by an amateur. For safety and insurance reasons, circuit breakers must also be installed according to code.
Do not perform any electrical repairs on your own, no matter how minor they may seem. Instead, call on the professionals at Blake Brothers. You can count on us to leave you with a more reliable electrical system and a safer home.
Low Monthly Payments Financing for HVAC, Electrical, and Plumbing Services
Convenient financing options available!
As part of our commitment to helping business owners and establishments, we offer flexible financing options for our commercial electrical services in the Huntsville area. Contact us today to learn more.
Why Choose
Blake Brothers?
Instant schedule confirmation
Book online now to receive your appointment confirmation.
Affordable service, transparent pricing
Honest, upfront pricing for all our services. No surprises, hidden fees, or extra charges
Available 24/7 for emergencies.
HVAC or plumbing emergency? Call us!
We're at your service any time of the day or night.
Excellent Financing
Monthly payment plans to fit any budget – finance any major repair or replacement.
Blake Brothers has Technicians Ready to Assist with Circuit Breaker Repair in
Plumbing License # CO51200005
We provide HVAC, electrical, and plumbing services throughout Alabama. Click the link below to find out if our services are available in your area.
"Jared did an excellent job diagnosing our HVAC issue. He was able to perform the service in a timely manner and was able to answer every question I had regarding our system!" ---Justin Colar