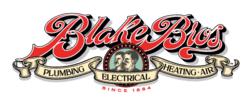 Quality Home Humidification & Dehumidification Systems in Huntsville
Humidity is a prevalent issue during the winter and summer months. Humidity can rise to uncomfortable levels at one period of the year and then drop to extremely low levels at another, causing excessive dryness that can make even staying indoors a chore.
If you've noticed that the humidity levels in your Huntsville, AL home have become uncomfortably high or low—to the point that it triggers allergies, worsens colds, and causes damage to your furniture—it's time to call Blake Brothers about a whole-home humidifier or dehumidifier. We carry high-quality whole-home humidifiers and dehumidifiers from the most trusted brands in the industry and install them for you as well. We also perform repairs and annual maintenance to ensure their continued efficiency.
Our Process: Whole Home Humidifier Installation
Book Instantly Online.
Click "Book Online" to schedule your service and receive instant confirmation.
A technician will visit your home.
We arrive at your property on time, inspect the issue, and let you know what to expect.
3
Blake Brothers will perform your humidifier/dehumidifier installation
We help you choose the right system for your home and make sure it is installed properly.
Customer satisfaction guaranteed!
We stand behind our work. Call us anytime for post-service inquiries or concerns.
Your Whole Home Humidifier & Dehumidifier Specialists in Huntsville
Researchers have found that indoor air quality (IAQ) can be two to five times worse than outdoor air quality, making it one of the top five environmental risks to public health. Excessive or insufficient moisture in the air is a major cause of poor indoor air quality. Mold, mildew, dust, and other allergens thrive in air with less than optimal humidity.
Low or high humidity levels can cause more than just discomfort in your home. They also force your HVAC system to work harder, which can lead to higher energy bills and more frequent repairs and maintenance due to wear and tear.
Here at Blake Brothers, we understand the importance of maintaining a comfortable level of humidity throughout the year, which is why we make sure to provide you with cutting-edge humidification and dehumidification systems. We are a locally owned and operated business with extensive experience calibrating moisture levels and delivering impeccable HVAC and IAQ services.
Our high-quality humidity control solutions will assist you in maintaining a comfortable indoor climate all year. Contact us today for a no-obligation consultation!
Signs Your Home Has Humidity Issues
The ideal relative humidity for a typical home is between 35% and 45%. Keeping your home's humidity within this range will protect your home from the negative effects of having too much or too little moisture in the air.
But how can you tell if the humidity in your home is too high or low?
Humidity is typically low in the winter and high in the summer. But when indoor humidity gets to an extremely high or extremely low level, you'll typically notice or experience one or more of the following signs:
Signs of low humidity:
Feeling stuffy as soon as you wake up
Dry skin, lips, and hair
Recurring nosebleeds
A lot of static around the house
Cracks on wood furniture
Signs of high humidity:
Condensation on the windows
Water stains along the ceiling and walls
Stale, musty odors inside your home
Mold and mildew issues
Air feels hot and muggy even when the AC is turned on
When in doubt, you can check your home's humidity levels using a hygrometer, or you can call Blake Brothers to run a test for you.
If the relative humidity in your home is below 35% or above 50%, you may want to consider investing in a home dehumidifier or humidifier to provide the healthiest and most comfortable living conditions for you and your family.
Humidifier vs. Dehumidifier: Which One Should You Get?
To control humidity and keep it at just the right level, you may need to use a humidifier or a dehumidifier, depending on how dry or humid the air in your home is.
When Should You Use Humidifiers?
Low humidity is common during the winter months. The air gets drier as the temperature drops, which can cause a variety of issues. Dry air can irritate your ears, nose, and throat, worsen your allergies, and even harm the surfaces in your house.
Home humidifiers add moisture back into the air in the form of mist, which increases humidity and improves the overall indoor air quality in your home. These devices can help with the following conditions:
Dry cough
Nose bleeds and nose irritation
Throat discomfort or dryness
Headaches and stuffy nose
Dry lips and skin
When Do You Need Dehumidifiers?
A humidifier adds moisture to the air, while a dehumidifier does the exact opposite. Just as dry air can be bad for your health, so can air that's too humid.
Dehumidifiers remove moisture from the air in either one of two ways: by cooling it, like a refrigerator or air conditioner, or by absorbing it onto a drying material, like a sponge. The result is cooler, drier air circulating throughout your home. Installing a whole-home dehumidifier can help with the following issues:
 Allergies
 Asthma
Sneezing
Coughing and wheezing
Itching
Eye irritation
Mold and mildew growth
The IAQ experts at Blake Brothers can help you figure out the best indoor air quality solutions for your Huntsville home. Get in touch with us to have your home's humidity levels properly evaluated.
Are Whole-Home Humidifiers/Dehumidifiers Worth It?
Humidifiers add moisture to the air; dehumidifiers get rid of it. But both are designed to help you achieve ideal humidity levels for a safer and healthier home.
When shopping for a humidifier or dehumidifier for your home, you'll come across portable and whole-home models. A portable system is easily moved from one location to another and is intended to provide humidity control for one room. These units are typically smaller and less expensive. They are meant to provide comfort as needed but are more of a temporary fix than a long-term solution.
Whole-home humidification and dehumidification systems, on the other hand, do exactly what their names suggest. They are usually installed alongside your heater or air conditioner and regulate the humidity in your entire home. We advise going the whole-house route if you want to say goodbye to indoor humidity issues once and for all.
Low Monthly Payments Financing for HVAC, Electrical, and Plumbing Services
Convenient financing options available!
Schedule your home humidification or dehumidification service today and pay over time through our flexible monthly payment plans.
Why Choose
Blake Brothers?
Instant schedule confirmation.
Book online now to receive your appointment confirmation.
Affordable service, transparent pricing.
Honest, upfront pricing for all our services. No surprises, hidden fees, or extra charges.
Available 24/7 for emergencies.
HVAC or plumbing emergency? Call us!
We're at your service any time of the day or night.
Excellent Financing
Monthly payment plans to fit any budget can finance any major repair or replacement.
Blake Brothers has Technicians Ready to Assist with Home Humidifiers & Dehumidifiers in
Plumbing License # CO51200005
We provide HVAC, electrical, and plumbing services throughout Alabama. Click the link below to find out if our services are available in your area.
"Jared did an excellent job diagnosing our HVAC issue. He was able to perform the service in a timely manner and was able to answer every question I had regarding our system!" ---Justin Colar