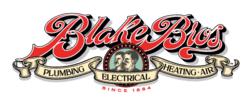 Huntsville's AC tune-up and maintenance pros
It's no secret that air conditioners are less likely to malfunction when they receive proper care. But every year, many home and business owners still fail to schedule regular AC maintenance and then find out the hard way that unmaintained cooling systems tend to break down more often and may cost a fortune to repair.
What can you do to save money on air conditioning services this year? Schedule routine, preventive maintenance with Blake Brothers Plumbing, Electrical, Heating, & Air. We provide residential and commercial HVAC services in Huntsville, Athens, Madison, and Decatur, AL.
Our Process: AC Maintenance
Book Instantly Online.
Click "Book Online" to schedule your service and receive instant confirmation.
A technician will visit your home.
We arrive at your property on time, inspect the issue, and let you know what to expect.
3
Blake Brothers will perform your AC maintenance service.
We tune up and inspect your AC system thoroughly to ensure optimum efficiency and performance.
Customer satisfaction guaranteed!
We stand behind our work. Call us anytime for post-service inquiries or concerns.
Dependable AC Maintenance Services in Huntsville
There is nothing worse than an air conditioner that stops working when you need it to run! Thankfully, our HVAC contractors can give your air conditioning system a top-of-the-line inspection, explain exactly what is going on with your system, and then suggest priority maintenance options you can choose from.
A maintenance visit is important for the health and longevity of your AC system, and it usually includes:
Cleaning the AC condenser and evaporator coils
Checking for refrigerant leaks or frozen coils
Cleaning the condenser unit and fan belt
Inspecting the electrical system
Lubricating moving parts
Changing dirty air filters
Scheduling a routine tune-up with Blake Brothers at least once a year can make a huge difference in the long-term performance of your AC system! We cater to the HVAC repair and maintenance needs of the communities in and around Huntsville, AL.
Feel free to read our recent reviews so you can get to know our HVAC team better and feel more confident about scheduling your AC and heating maintenance services with us.
Signs Your Air Conditioner Needs Maintenance
Lack of AC maintenance can lead to malfunctions and inefficiencies in your air conditioning system. If your AC has been acting funny, it's probably because a routine tune-up is overdue.
Keep an eye out for these warning signs and have your AC serviced as soon as you notice any of them.
The thermostat setting does not reflect the temperature of the room.

A miscalibrated thermostat will give false readings and shut off too soon, leaving you with an uncomfortably warm room. During an AC tune-up experts will recalibrate your thermostat if it's not accurate. If you're still using a manual version, you may also opt to upgrade to a programmable or smart thermostat.

Your air conditioner keeps turning on and off.

An air conditioner that turns on and off every less than five minutes is most likely short-cycling. If you're lucky, the issue is only with the thermostat and can be solved with a few simple thermostat adjustments.

Your AC blows warm air or has weak airflow.

This is another problem that's likely due to a bad thermostat. A thermostat that gives inaccurate readings can activate your air conditioner's heating mode and cause it to blow warm air. Another possible culprit is filthy AC filters, which impede airflow, making you feel as if your AC is blowing out warm air.

You sneeze or cough more often indoors.

If you don't change your AC's air filters often, the dust and other air contaminants that have accumulated can get airborne again and recirculate around your home. As a result, you or your family members may suffer from the effects of poor indoor air quality and indoor air pollution, which include sniffles, coughs, sneezing, and allergies.

You detect foul odors when the AC is turned on.

Because of moisture, your air conditioner can serve as a breeding ground for molds and germs, which can give off foul smells. It is also possible for insects and tiny rodents to find their way into your air conditioner. If they die inside the vents or AC unit, their decaying bodies tend to produce a nasty, putrid stench that can travel all over your home as soon as you turn the AC on. Yikes!
We know how much you rely on your HVAC system for comfort. And that's why we send you the best technicians in the business.
Our team has the skills, training, tools, and professional credentials to provide top-quality HVAC maintenance service to homes and businesses in and around Huntsville. Whatever HVAC issues come your way, we are here for you!
Benefits of Routine HVAC Maintenance
Scheduling routine maintenance is similar to going in for a car tune-up or oil change. Without preventive maintenance, HVAC is at risk of deterioration and frequent breakdowns.
There are countless benefits to a well-maintained air conditioning system, beyond just having a reliable and fully functional AC unit. Regular AC maintenance also offers the following benefits:
Uphold AC maintenance warranty

Several air conditioner manufacturers offer service warranties on their systems. Regular maintenance may be necessary to keep these warranties intact.

Improved energy efficiency

Maintenance helps make sure that your system is running as efficiently as possible, which saves energy and lowers your monthly utility costs.

Preserve the operational life span

Cooling systems that do not receive regular maintenance are at a much higher risk of damage and premature replacement.

You sneeze or cough more often indoors.

If you don't change your AC's air filters often, the dust and other air contaminants that have accumulated can get airborne again and recirculate around your home. As a result, you or your family members may suffer from the effects of poor indoor air quality and indoor air pollution, which include sniffles, coughs, sneezing, and allergies.

Prevent repairs

With regular maintenance, you are less likely to need air conditioner services. This saves you money by preventing the need for more extensive or complicated repairs.
We recommend getting your air conditioner tuned up every spring, before summer kicks in, and scheduling your heater maintenance in the Fall. The best time to service your heating or cooling equipment is before the season when you will be using it the most.
Our HVAC experts can find and address any possible issues to prevent malfunctions and ensure peak performance when you need your HVAC system the most.
Low Monthly Payments Financing for HVAC, Electrical, and Plumbing Services
Convenient financing options available!
We offer financing for all major repairs, replacements, and installations in the Huntsville area.
Why Choose
Blake Brothers?
Instant schedule confirmation.
Book online now to receive your appointment confirmation.
Affordable service, transparent pricing.
Honest, upfront pricing for all our services. No surprises, hidden fees, or extra charges
Available 24/7 for emergencies.
HVAC or plumbing emergency? Call us!
We're at your service any time of the day or night.
Excellent Financing
Monthly payment plans to fit any budget – finance any major repair or replacement.
Blake Brothers has Technicians Ready to Assist with AC Maintenance in
Plumbing License # CO51200005
We provide HVAC, electrical, and plumbing services throughout Alabama. Click the link below to find out if our services are available in your area.
"Jared did an excellent job diagnosing our HVAC issue. He was able to perform the service in a timely manner and was able to answer every question I had regarding our system!" ---Justin Colar